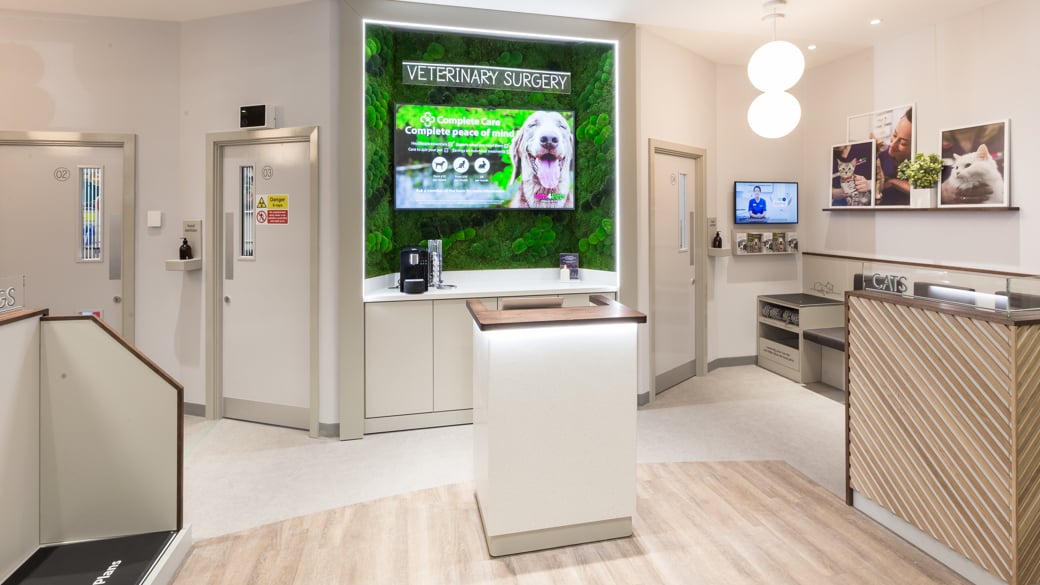 Vets4Pets Staines
We are excited to announce that we are looking for a practice owner for our brand new innovative state of the art practice.
About the practice
Vets4Pets Staines has been styled with our brand new modern look, and we are looking for a vet or small group of veterinary professionals who want to explore the opportunity of ownership.
Situated inside a new, interactive Pets at Home store, both the store and practice showcase our latest innovations in customer and client experience, and equipment. This spacious site will provide the platform for you to build and grow your own business.
The practice is situated on a high street in the centre of Staines, which is half a mile away from many residential areas. There is a large amount of parking at the front of the store as it is based in the high-end Two Rivers retail park.
Partnering with us
Our Joint Venture Partnership model is the only model in the industry that gives you complete TRUE clinical freedom, you're independent to make your own business and practice based decisions, allowing you to run your practice, your way, keeping 100% of the profits.
Partnering with us enables an affordable route to ownership, making the dream of owning your own practice more achievable than ever.
We have 12 dedicated departments that support you in all aspects of business, setting you on the path for success. Our model includes a guaranteed salary from day 1 whilst having the security of being part of a wider group.
Tour our Staines practice
About Staines
"A bustling shopping hub in a picturesque and convenient location"
Staines – or, officially, Staines-upon-Thames – is a key town near the border between north Surrey and west London. In 2015, Staines was hailed as the number one town for business creation - even beating London to the top spot.
The Colne Valley Park covers more than 40 square miles of countryside to the west of London and reaches Staines at its most southerly point.
Cornered by the M3 and the M25, with Heathrow on the northern outskirts, Staines has great transport links.
Our new Pets at Home store look
Get in touch
To find out more about ownership at Vets4Pets Staines or more around how our model works, contact Tom Legrand on 07719 056 045 or email using the button below.