Practice Partnership at Vets4Pets Dunfermline
About the practice
Dunfermline Vets4Pets is looking for a new Vet Partner to join the well-established and well-respected practice that takes their responsibilities to their teammates as seriously as they take those to the pets under their care. This is an opportunity to own shares in a profitable practice ( where the hard yards have already been done !), secure your financial future and have your say in the day to day running of the practice clinically as well as managing a team.
Having opened its doors in 2014, Dunfermline Vets4Pets has developed an incredibly strong and loyal client base who value and share their proactive approach to preventative and medical care and with a team that has the support to consistently offer those higher standards of both client and patient care. The practice is in excellent condition, undergoing expansion, is profitable and prides itself on staying true to their claim of being able to offer high value clinical care and client service with a team that has the time to do so.
There are just over 2,700 active clients at the practice with over 55% of patients being canine and over 30% feline. Currently they have an incredibly high percentage (more than 57%) being bonded to the practice through the healthcare plans. All out of hours work is referred out, providing a better work-life balance for the team and ensuring higher colleague retention.
This opportunity is ideal for a Vet who is looking to do more than just clinical work. If you have ideas on developing clinical and non-clinical protocols to improve patient, colleague and client care, would like to invest in a well established practice that can offer excellent future growth potential and a chance to secure your own financial future then please get in touch.
Inside the practice
With expansion happening soon, the current layout of the practice consists of;
3 consult rooms – 1 doubles as an imaging room currently
Sterile surgical theatre
Isolation ward
Separate cat and dog areas
Good sized prep area with iM3 Dental X-ray
Office/colleague room
Dispensary
Expansion will add a new dental and imaging suite, a colleague room and office
Hear from Forbes and Lauren
Forbes and Lauren opened Vets4Pets Dunfermline in 2014 and have built the practice around open communication, respect, trust, honesty, fun, empathy and making sure that the team are supported with clear protocols, expected behaviours, and encouraged to put forward ideas that might improve things for patients and colleagues
The next exciting part of the journey involves bringing in another partner that might find themselves at a point where they aren't being listened to but have ideas, protocols and procedures that they want to implement that they feel will benefit the team, clients, and patients they look after. This opportunity is for someone looking for more say on how things are run both clinically and in a management capacity.
"I quickly realised after qualifying that I wanted more…After taking a few separate roles to find my feet, it was clear to me that I wanted to start a journey towards leadership, creating a healthy culture in a practice and training the next generation of Veterinary Nurses. When the opportunity of become a Joint Venture Partner was suggested to me I knew that I was at the starting line to the role I had been looking for." - Lauren Millmore, Joint Venture Partner and Head Veterinary Nurse
"After 8 long years of study and with a background in retail management I spent my first few years after graduating working for both independent and corporate veterinary practices and hospitals. Within months of graduating I very quickly realised that I didn't feel the current approach to vet med was sustainable and already felt myself heading towards frustration and burnout. The culture, values and behaviours that I believed were fundamental to enjoyment at work were not being met and I quickly realised that I should do something about it" - Forbes Shaw, Joint Venture Partner and Veterinary Surgeon
About the team
The current team are long-standing and everyone knows 'how we do thing's! They have built strong relationships with the clients of the practice evidenced in their excellent online reviews and truly exceptional net promoter score of > 90%!. The team currently comprises of;
2 Vets (including one of the 2 Partners) one of which holds a surgical certificate ( they are recruiting for a 3rd vet currently)
2 Senior nurses with 20+ years of combined clinical experience
1 Practice Manager (another one of the partners, who also works as a nurse in practice)
2 VCA's – with comprehensive in-house training the VCA's are able to run blood and urine testing in house, prepare cytology slides and are also enrolled onto a City&Guilds course to enable them to safely monitor anaesthetics
1 CCA
The team is supported with
30 minute challenging sick pet consults, euthanasia's, 1st vaccines and new patients
Allocated admin time and protected lunch breaks
Recruitment based on shared values and behaviours to support a positive culture
Clear protocols to support our vision
iM3 Dental X-ray
MyLab omega ultrasound
Digital radiography
In house Idexx lasercyte, microscopy
BP monitor, pulse ox, capnography
What our clients are saying
Just a snippet of some of the reviews the practice receives to gain their 4.7 stars on Facebook Reviews:
"First time visit and probably the best vet I've had for my 2 cats! The vet was so good with them and answered any concerns I had! So happy with my decision to move here"
"My puppy is almost 7 months old and has been to Vets4Pets a few times. Each time he goes the staff are super friendly and give him lots of love and attention. They are all very knowledgeable and helpful, I always feel at ease when I visit."
"We've had six pets all registered here as well as three foster dogs. The service is always excellent and the staff make an extra effort to make sure the animals feel happy and comfortable during their visit"
"Brilliant friendly and above all caring, all colleagues are friendly, happy to help with all"
About our model
At Vets4Pets, joint venture partnership is at the heart of everything that we do. It's our greatest strength. Our joint venture partnership model allows vets, nurses, and practice managers the opportunity to take the next step into being a practice partner.
Partnering with our business experts across several key functions will help you develop your commercial and leadership skills and experience and as an employed Director and shareholder in the practice, you will have clinical freedom to make your own decisions, shape your team, develop your local presence in the community and secure your financial future.
Get in touch
To find out more about Partnership at Dunfermline Vets4Pets or more around how our model works, contact Samantha Culling on 07890 044 014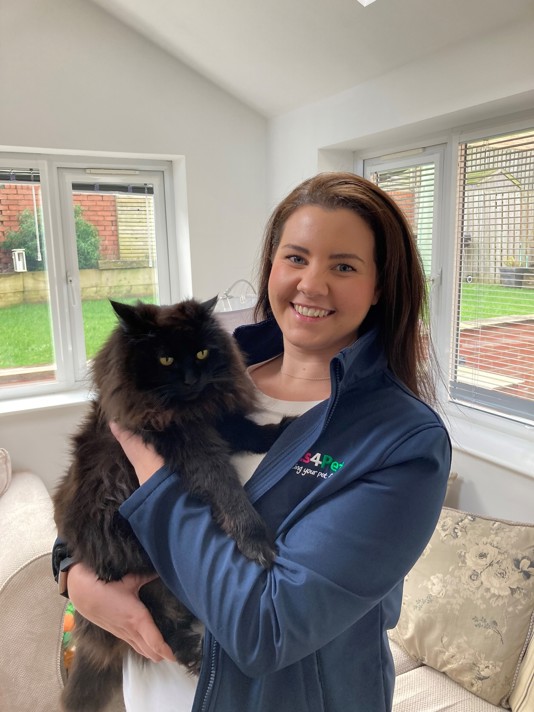 Take a virtual look around
About Dunfermline
Dunfermline can offer the best of both worlds when it comes to countryside and city living. It offers excellent coastal and forest walks right on the doorstep and Edinburgh is only a 15 minute commute by car! There are good transport links into Edinburgh too so this area really can offer you a bit of everything.