Project Listen update April 2022
As an organisation, we've been excited by the engagement we've received around Project Listen. From the number of you who took part to the energy with which our change commitments have been supported, we wanted to begin a series of regular updates. These updates are to ensure that both internal and external veterinary professionals can see what steps we're making to bring these commitments to life, and change the working environment within Vets4Pets/Companion Care for the better.
As we move Project Listen into the action stage, our focus is to develop the commitments we have made and launch them with our practices. Colleagues from different functions have come together to work on the commitments, and where appropriate, work with external experts. We are pleased to announce that our plans are now finalised, and we are making good progress implementing them.
Our major commitment is to embed the BVA Good Veterinary Workplace Code – now referred to internally with affection as just 'the code'!
We are thrilled that Gudrun Ravetz joined us on 1st April for 18 months as Head of Workplace Engagement to help us embed The Code and provide her expert guidance in shaping our Project Action commitments.
With more than 20 years of experience, Gudrun has an in-depth understanding of the veterinary sector. She has worked as a clinician in private practice, for charity and is a former President of both the British Veterinary Association and the Society of Practicing Veterinary Surgeons. In addition to her clinical experience, she has worked in several veterinary-related roles in industry, management and as a consultant, as well as being the Chair of the British Veterinary Association's Good Veterinary Workplace Working Group.
Built by the profession, for the profession, the Code is a practical guide to help practices create sustainable workplaces. It promotes a positive culture and reflects what the profession is looking for to remain fulfilled and engaged at work. Following on from the Project Listen commitment to implement The Code, Gudrun and Kirsteen Atkinson from our People team formally launched our commitment to the code at our recent Partner and colleague conference.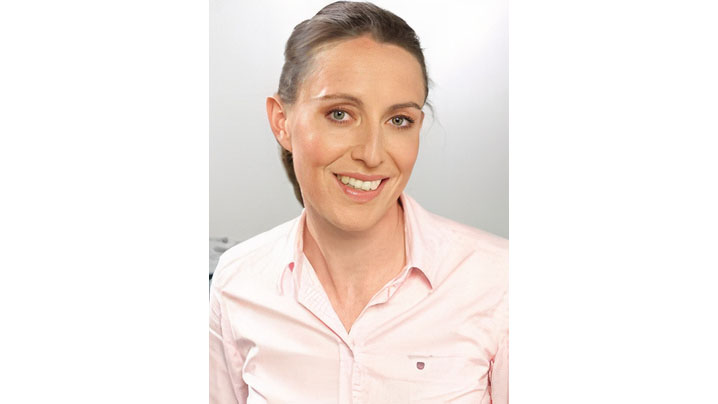 They are now working closely with colleagues from across the company, including the Joint Venture Council, to create an accessible and well-resourced guide that creates a framework for practices based on The Code recommendations, and the values of the group. This will support practices to engage and work through The Code at their own pace while being supported on their journey by a variety of tools. This will include training and the commitment from everyone at Support Office that we want to support you to embed The Code within your Practice. Gudrun and Kirsteen are currently working up a detailed deployment plan which we will share with our partners in the coming weeks.
Work on all commitments is on track. We are delighted that we have launched a couple of commitments earlier than we had anticipated – specifically our commitments to colleague wellbeing and benefits.
Wellbeing
This week, we launched Wellbeing Handbooks to all vet practices across our business. To achieve this, we created two versions. One for those in practices that are managed by the group and one for our Joint Venture Companies. For our Joint Venture Practices, we shared with them a pre-populated template that allowed them to easily and quickly add, edit or remove content so it's akin to their practice and what they offer.
These Handbooks are split into the four pillars of well-being that we focus on – Mental Health, Physical and Nutritional Well-being, Financial well-being and Social well-being. Aiming to be a one-stop-shop for all things wellbeing, we're confident the Wellbeing Handbooks will bring to life our wellbeing offering and allow colleagues to know where to go to get help and support, should they need it. So far, the Joint Venture template has been accessed 215 times in its first week of launch, and the Group version over 100 times.
"I'm currently going through the Wellbeing Handbook that you have put together and think it's great. The ability to tailor this, add and remove content and make it specific to our practice is exactly what we are after. A big thumbs up so thank you for working on this!" – Mark Sauer, PM – Vets4Pets Kingston Park & Gateshead
Mental Health First Aid
So far, we have trained 428 practice colleagues as Mental Health First Aiders. To fulfil our commitment of 1 trained colleague per practice, we've just secured 150 more training places throughout the summer months.
Our CPD programme runs once a month and invites all trained colleagues to a collaborative session to further their learning and understanding of Mental Health and provides a safe environment to discuss what they've learnt in the training. Topics so far have included Resilience and Eating Disorders and the feedback continues to be positive.
"Thanks for the incredible session today - it was so helpful. I am so lucky to work for an organisation that supports colleagues so brilliantly." – Sandy Wetherall – Practice Manager Abingdon, Oxford and Newbury Vets4Pets
Your Reward Hub (YRH) Relaunch
Your Reward Hub … the hub of all things benefits, discounts, recognition and wellbeing. Whether colleagues want to use our discounts to make savings on their everyday shopping, engage their team and peers with our Recognition tools, take time for themselves and use our wellbeing support, access their colleague benefits or manage their finances using our financial wellbeing tools… your Reward Hub has it all.
At the start of February, we focused on a 'Recognise your Role model' engagement campaign within, our benefits platform (Your Reward Hub). The campaign also encouraged colleagues to explore the benefits hub, and as a result, we have seen an increase in the number of colleagues registered on the benefits hub which is great.
Engagement levels on Your Reward Hub
The below image shows the number of active registrations we have had on the platform from April 2021 until today (8th April 2022). (Active excludes leavers)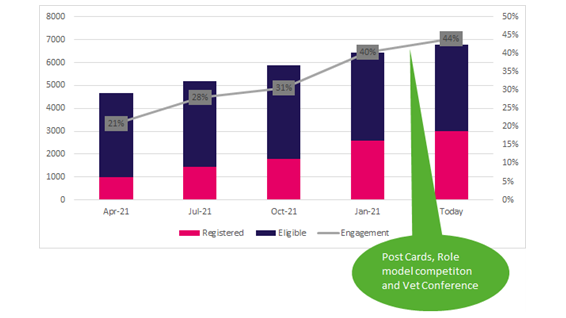 The below image shows the type and number of ecards, which have been received on the platform from April 2021 until today (8th April 2022).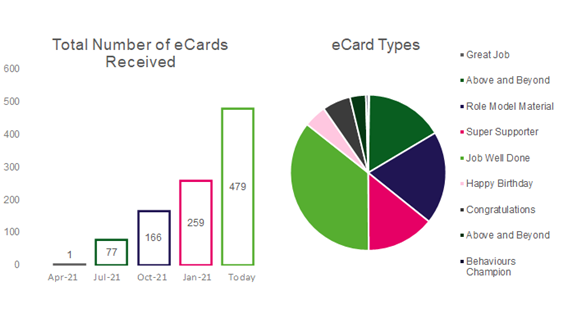 We aim to offer regular updates to the news section within Project Listen. Check back soon to see how we're continuing to progress with our changes.