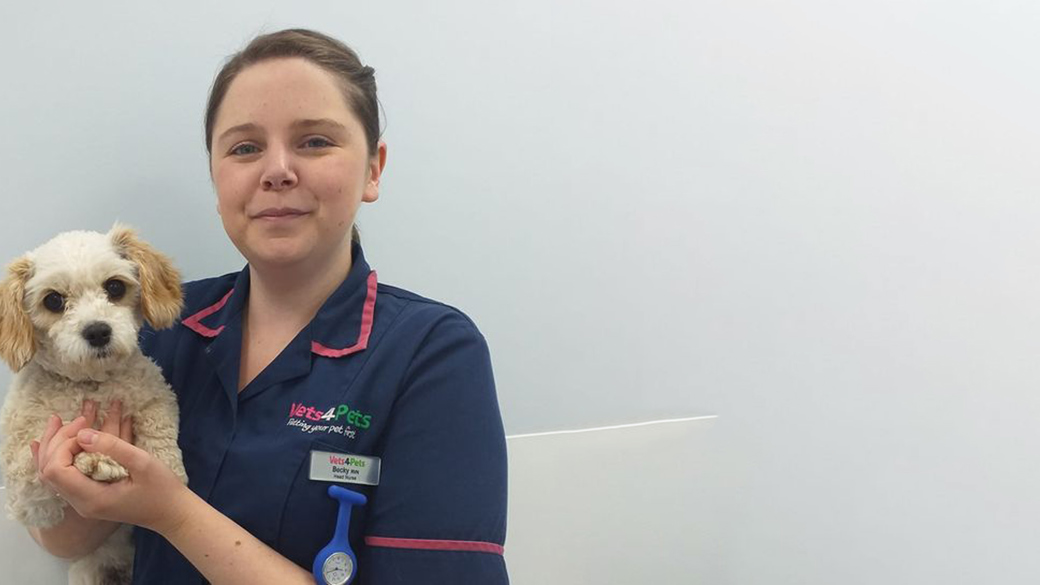 Becky's career journey to Head Nurse and beyond
Here at Vets4Pets we're proud of our colleagues and love to see them grow and develop within our business. So a story like Becky's, our Head Nurse at Vets4Pets Hereford, is a really inspiring read! Find out why Becky chose to join us and hear about how her career has progressed ever since below:
I qualified in 2008 via an NVQ, which works much like the apprenticeships do today. I trained and worked in a family run, independent practice until 2017, when I heard a Vets4Pets was opening nearby. I had been a consulting nurse and head of reception. I enjoyed this side of things and still do, but wondered if it was time for a change. After meeting the Joint Venture Partner for a chat I realised we were on the same wavelength. With talk of offering exotic pet care, a focus on nurse led areas and just the general ethos Elliot was aiming for, I made my decision. It was not easy after being part of the same 'family' for 11 years, but it was the best career move I could have made.
Un-packing and setting up all the equipment in a shiny new practice in the first week was fantastic. It's been satisfying to develop our standard operating procedures, creating hospital charts and anaesthetic monitoring charts over the years, adding new bits as the team gains knowledge or new members. We have achieved ISFM feline friendly gold, RWAF rabbit friendly silver, hen friendly, RCVS PSS along with an RCVS award in client care. I'm currently studying my Masters in Animal Nutrition, funded and supported by the practice in the hope to begin taking nutrition referrals over the next year.
I'm now Head Nurse and one of the best parts of my job is seeing student nurses develop and colleagues achieving further qualifications. I am so lucky to work within a team of experienced nurses, because the practice supports CPD and appreciates us. I have learnt so much from them; I can now suture, amputate a tail, perform effective CPR and have a good basic knowledge of behaviour. I try really hard not to get set in my ways, which can be hard when you've been in the same profession for so long!
An area I'm passionate about is mental health and wellbeing. It can be a high pressured, stressful environment to work in. I am very open about my own mental health and encourage our team to do the same. I recently joined the Better World Group. We are a group of colleagues from the Vets4Pets Support Office and clinical practice working together to support and communicate change across the Group. It includes our environmental footprint, pet welfare and colleague welfare. To be honest I joined the group with few expectations, thinking it may just be all talk and a box ticking exercise. However, real changes are happening and it's nice to feel part of a larger group aiming for the same goals.