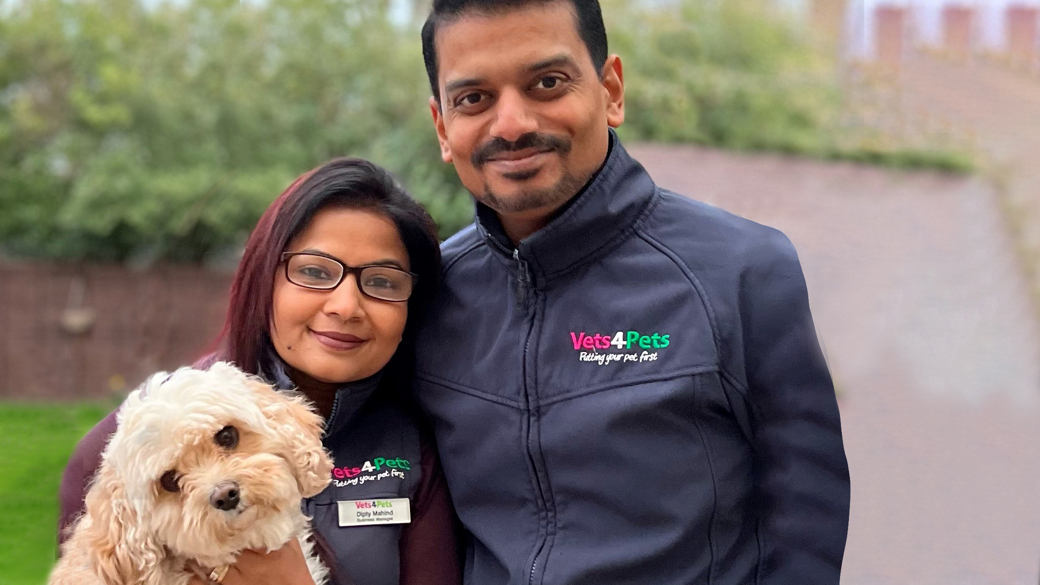 Dipty Mahind Joint Venture Partner (JVP) Vets4Pets Basildon Pipps Hill
With over 480 Joint Venture Partners across the UK, no two Vets4Pets practices are the same. We met up with Dipty to find out more about her partnership journey.
My husband and I qualified as vets in India. I had a brief experience working in a small animal practice and then moved to an equine practice for the following 5 years. My husband remained in a small animal practice.
We moved to the UK in 2008 where my husband, Kishor, started a permanent role in a Companion Care practice. Our dream was to open our own practice, but we were still quite new in this country and we wanted to explore what was best for us and our family as we didn't know how to get started.
So, how did your journey into Joint Venture Partnership start?
It was a very, very exciting journey. We learnt about a veterinary practice management course which I was really interested in - I completed the course which forms part of the ESVPS (European School of Veterinary Postgraduate studies). Now, I had the qualifications, but I didn't have the experience, so I decided to start working as a locum in different practices, whilst Kishor was still working at one of the companion care practices.
After a short while, we were ready to explore what options were available to us. We contacted Vets4Pets and attended a Discovery Day, where a representative from each support function came and spoke to us about their departments and how they support partners. We developed our understanding on how the model works, from funding options to marketing and HR. We found this really encouraging because everything that each department spoke to us about was really insightful.
With being new to the country we were worried about the risk, the same when starting up any new business, but we were reassured about the continuous support that was on offer and everything was explained to us in so much detail, it was really easy to understand.
So, in March 2013 we became Joint Venture Partners (JVPs)and opened our first practice - Vets4Pets Basildon Pipps Hill.
How does the husband and wife dynamic work in practice?
Kishor focuses on the clinical side of the business, and I decided my role was to drive the business through managing the practice effectively. Separating these two roles worked well for us, we could have both supported clinically, however we knew from experience the long hours needed, and we had a young family at home so needed to ensure we have a good work/life balance.
What's the main support function that you've benefited from?
We received ongoing support from the recruitment team at the support office they've helped guide us through getting the best teams for the practices. Every department has been wonderful. We enjoy the marketing and our Area Relationship Manager Jackie is fantastic - she really helps bring structure to the businesses. We have a business review every 8 weeks so we understand how the business is performing and chat through any ideas or concerns that we have and she is on call to us 24/7 and if she isn't available, then we have a clear support network that we can also reach out to. The ARM is the best continued support that we have benefited from.
And, thanks to the support that we received from Vets4Pets we were able to open our second practice in December 2014 - Vets4Pets Thurrock.
What do you think is the main benefit of being a Joint Venture Partner with Vets4Pets?
The main benefit of being a JVP with Vets4Pets is the clinical freedom. They have a commercial team who will negotiate with suppliers on your behalf and keep you up-dated on products, however if you have a preferred medicine you would like to use then you can use it. There's no red tape. It really helps us to grow and Kishor has been able to build his confidence through clinical judgement and we have put in place processes that work in our practices.
The network of colleagues at Vets4Pets is huge which is another main benefit. We have access to hundreds of fellow JVP's, vets and a great clinical team at the support office who we can go to for any clinical advice.

What would you say to anyone who is considering a joint venture partnership with Vets4Pets?
Becoming a JVP is a big commitment that you take on, and you have personal commitments alongside that which you need to consider, however Vets4Pets made everything very clear and transparent and the support is always there when you need it.
You have to be resilient, you never know what is coming your way. We've all learnt that over the past 2 years. We constantly aim for excellent clinical standards, patient care, focus on excellent customer service and developing skills for colleagues and creating an ideal environment for colleagues to work in.
Mrs Dipty Mahind, BVSc&AH DPCert (B&PS)