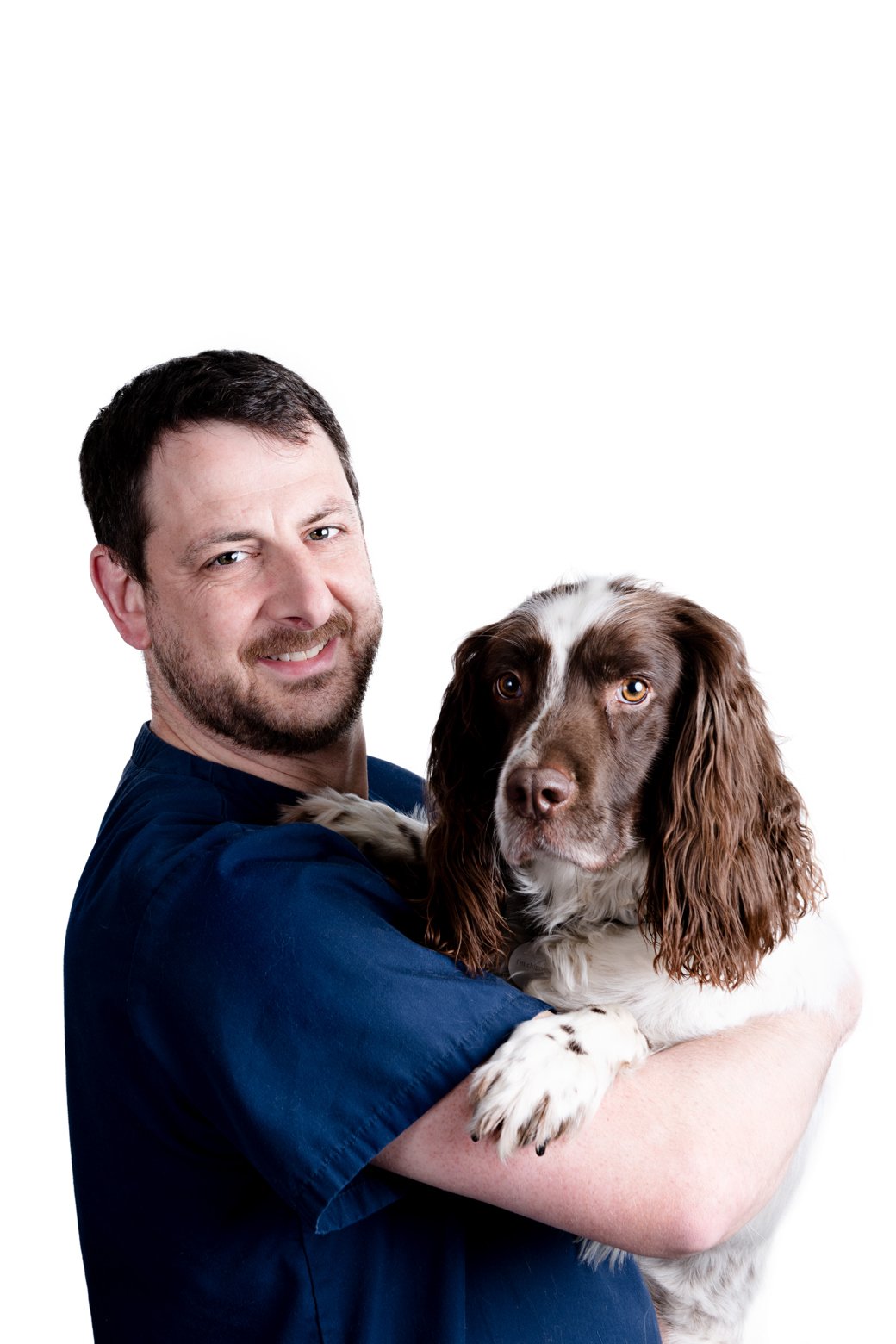 Carl May Joint Venture Partner Vets4Pets Alsager
Joint Venture Partners at Vets4Pets are not all Vets. This is the story
of Carl May RVN, an experienced veterinary nurse who became a practice owner with Vets4Pets.

I cannot remember a time when I was not considering doing something involving animals. As a child, we had all the usual pets, cats, dogs, rabbits, hamsters, guinea pigs, etc and I always enjoyed spending time with and looking after them.
After spending two weeks of work experience at a Vet practice and being taken under the wing of a very supportive vet, I immediately knew that veterinary nursing was what I wanted to do.
Why did you choose to become a Joint Venture Partner (JVP) with Vets4Pets?
It was something that I had been wanting to do for some time, I had done everything that I wanted to do within the profession. I used my qualifications to travel and work overseas, I had been head nurse in several practices and worked in referral centres and emergency and critical care. Becoming a JVP just seemed to be the next logical step for me. I have friends that are JVPs, and I had worked in a Vets4Pets practice, so I knew how the model worked, and felt that it was something that could help me move to the next level in my career.
What excited you about the thought of being a JVP? Did you have any concerns?
Primarily the most exciting thing was being able to build something entirely from scratch and do things the way I wanted. I have had some great employers over the years - people who treat their patients, clients, and staff very well, people that genuinely care.
Unfortunately, I have also seen the opposite, and worked for people that are only in the profession for what they can get out of it - places where patient and client care are far from the top of the list when it comes to priorities and where the team is very much undervalued. Luckily the latter are far outnumbered by the former.
I learned valuable lessons from both, teaching me that I wanted to run a practice that offered a high level of care and service, provided by a team that genuinely loves what they do and is appreciated for it.
I didn't really have a lot of concerns as I knew that it was something that I really wanted to do.
How did your journey as a JVP start, did you always want to be a veterinary practice owner?

I can't say that I had always wanted to be a practice owner. When I qualified as a nurse it wasn't really an option, partners were always vets and it was expensive to buy into a practice, so even if the opportunity had arisen, I would not have been in a position financially to buy into a practice.
My journey started long before the opportunity at Vets4Pets Alsager arose, probably 10 years ago. I investigated joint venture partnerships and met with colleagues from support office. I had considered three other practices during this time, but for various reasons, the timing had never been right.
Why did you choose Vets4Pets Alsager?
When the idea of Alsager was presented to me it was something I couldn't resist. The building itself looks incredible and is in a great location. When I first saw the inside of the building it was completely empty, had never been used, and didn't even have interior walls.
This meant we had a blank canvas from which to create our very own, truly purpose-built practice over two floors. Whenever people visit for the first time, they are always impressed at how much space we have.
The small town, or village as the residents refer to it, of Alsager was known to me, and I knew that the people living here have a real village mentality and sense of community. This fitted in well with the kind of service that I wanted to provide, and we were soon welcomed into the village and took part in community events. I think it's important to become part of the community even if we don't live in the village.
Tell us about your team. What kind of team does it take to run your practice?
I genuinely could not ask for a better team. I would be lost without them. Very loyal, hardworking, and committed to providing excellent service – I cannot thank them enough.
Our team started off with me as the Nurse, two part-time receptionists, one part-time veterinary care assistant, and two part-time vets - we have now doubled our team in every area. Together we have achieved a lot – as well as being awarded outstanding
in customer care by the RCVS practice standards scheme, we have developed some great links with our community - working closely with our local animal rescue, we have become dementia friends and visited the local memory café with our dogs. We became the first-ever veterinary practice to be awarded autism-friendly status.
I am also very lucky to have an incredibly supportive partner who is also a veterinary nurse, so she understands that we don't always finish on time or that sometimes our job can be distressing. She has encouraged me every step of the way!
I think it's hugely important that the whole team buy into what we do and how we do it. For that reason, I try and involve everyone in decisions as much as I can – I ask for their advice and am always happy to receive their input.
It's incredibly important to me that I have people around me that I can trust to do the right thing, to give them the freedom and tools to do their job, and it's equally important that they know that they can approach me if there are problems or difficulties.
Before we opened, we sat down as a team and discussed how we wanted to work and came up with our own ethos and approach. This ethos has given us a great platform on which to build.
What's been the most important support function that Vets4Pets has provided?
I have been very well supported in every aspect of the business, I have built a rapport with colleagues within the various support office departments and feel that they have my best interests at heart. I can honestly say that it's not always perfect, but when it's not, there is always someone to reach out to for assistance should it be required.
I am very lucky to have had excellent support from a dedicated area relationship
manager, always at the end of the phone should I need advice, and I always feel that he is steering my business in the right direction with me.
I would say that being a JVP is not for everyone, you need a strong team around you and the support of family and friends. It's hard work initially, but the rewards are there if you are prepared to put the hours in and for a relatively small investment compared to "traditional" veterinary partnerships. Vets4pets are there to support you, but essentially, it's you that puts the effort in, as it is you that stand to gain the most.
What does the future hold?
Once we have paid our loans off, I hope that we are able to continue to grow as a team and a business and offer the same great service, if not better.
At some point, hopefully, not long after becoming debt-free, I will be able to take my first dividends from the business, followed hopefully by more dividends in the following years and this will make a huge difference to my family's lives. There will also come a time when I choose to sell some or all my shares in the practice, further adding to our financial security.