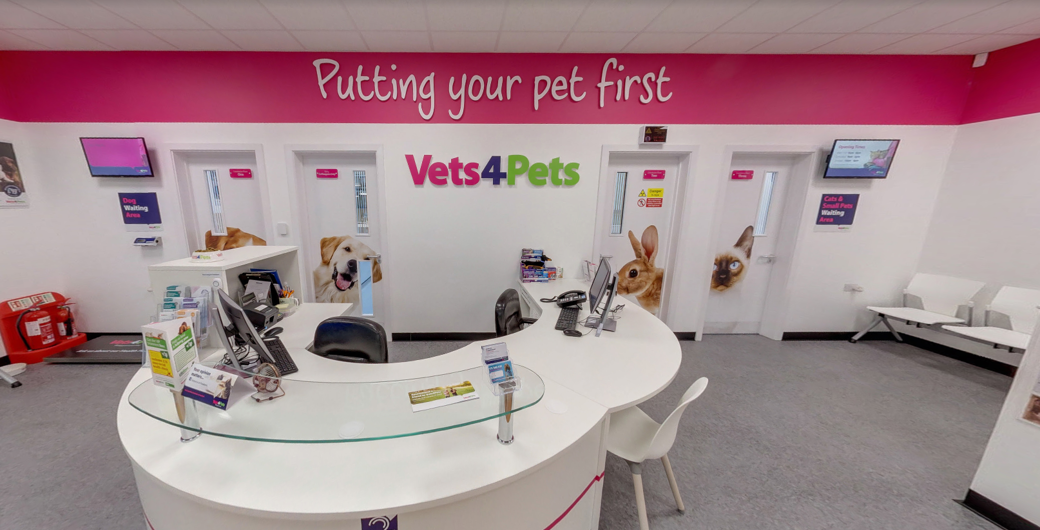 Veterinary Practice Ownership at Vets4Pets Northwich
About the practice
Northwich lies in the heart of the Cheshire Plain, at the confluence of the rivers Weaver and Dane. The town is about 18 miles east of Chester, 19 miles south of Manchester and 12 miles south of Manchester Airport. In 2014 Northwich was named as one of the best places to live in the United Kingdom by The Sunday Times.
Opened in 2018, Vets4Pets Northwich is situated on a mezzanine inside a successful Pets At Home store. The store is based on a retail park which has free parking, and neighbouring businesses include a B&M and Lidl.
The veterinary practice is laid out with three consult rooms, a separate theatre, a large prep area along with separate cat and dog areas and isolation. It has over 1,700 active clients which is constantly growing.
About the team
A dedicated team of full and part time veterinary professionals comprising:

One Vet
Two Nurses
One Veterinary Care Assistant
One Practice Manager
3 Client Care Advisors
About our model
Joint Venture Partnership is the only model in the industry that gives you complete TRUE clinical freedom. You're independent to make your own clinical and practice-based decisions, allowing you to run your practice, your way and enables you to have the freedom to make the best decisions for your patients.
Partnering with us enables an affordable route to ownership, making the dream of owning your own practice more achievable than ever.
We have 12 dedicated departments that support you in all aspects of business, setting you on the path for success. Our model includes a guaranteed salary from day 1 whilst having the security of being part of a wider group.
What our clients are saying
Just a snippet of some of the reviews the practice receives to gain their 5/5 on Facebook and 4.4/5 on Google:
"Absolutely amazing staff... Really nice genuine people that put pets first. Thank you."
"Brilliant staff, they truly love the pets, put my newly rescued dog at ease, everyone made a fuss of her and she was happy to go for her treatment. I felt happier too as they were very transparent about the costs, they helped me find the best treatment options with the lowest cost"
"This is one of the best vets I have been to excellent service friendly staff highly recommended"
"All staff very friendly and helpful nothing is ever too much trouble for them they go above and be on to help"
Take a look around Vets4Pets Northwich
Get in touch
To find out more about ownership at Vets4Pets Northwich or more information on how our model works, contact Bronwen Ballinger on 07719072463.