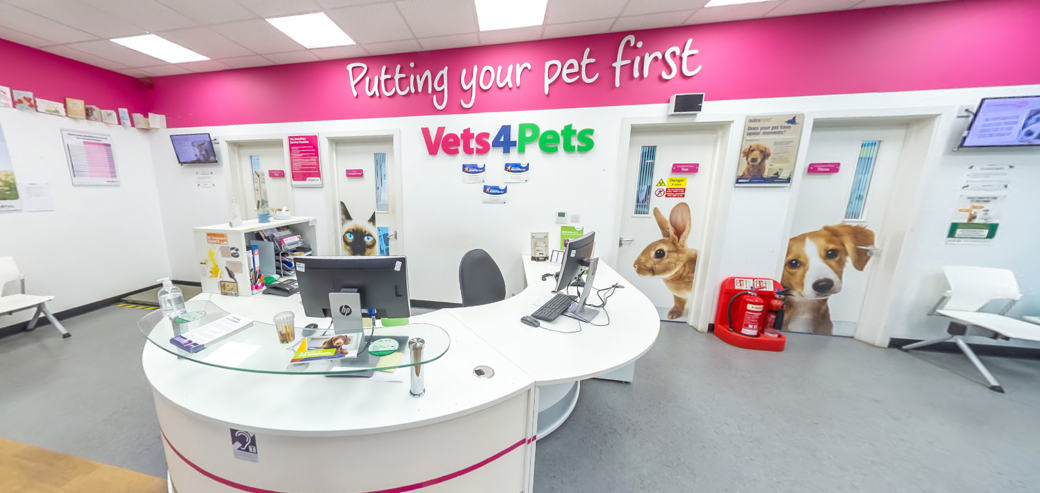 Veterinary Practice Ownership at Vets4Pets Wallasey (Bidston Moss)
About the practice
Vets4Pets Wallasey (Bidston Moss) is a well-performing instore veterinary practice, based inside a busy Pets at Home. It opened its doors in 2015 and has performed well since then.
The practice has a strong local reputation and a dedicated team of clinical and non-clinical professionals who work really well together to support over 1600 active clients. The experienced team consists of 2 Vets, 1 Practice Manager, 2 RVNs and 2 CCA's.
The environment that the team have created in this practice make is a really attractive place to work, which is reflected in the service the clients receive and therefore the reviews the practice gets.
The store is based on a retail park with neighbouring businesses including a gym, M&S Foodhall, B&Q, as well as an abundance of free parking.
The practice itself is on a mezzanine towards the rear of the Pets At Home store and offers 3 consult rooms (with one combined with x-ray), a theatre, separate cat and dog kennels and waiting areas, isolation ward, and a large prep area.
What our clients are saying
Just a snippet of some of the reviews the practice receives to gain their 4.2/5 on Google:
"Health discussion very thorough. Dog needed teeth out and cleaned. Able to fit her in that day so we didn't have to reschedule. Phone call when she was in recovery reassuring. Ready for collection at time predicted.
Impressed with friendliness of staff.
Used this practice for some years now and always happy"
"The trip to the vets is usually an ordeal for both pet and owner. However from lovely staff greeting at reception to stellar care from the vets, the experience was friendly and pleasant for all involved. The vet was so informative and took his time, answering all questions and we did not feel rushed at any point. Solid recommend!"
"Girlfriend took our cat this morning for an emergency appointment as one of her claws had curled round into her paw :(. Not going myself but was told the staff were amazing and did what needed to be done, rather than push potential money making products that were not needed. We do normally use another vet but after today we will/have made arrangements to sign both cats up :). That and we know of other people who use this practice.

100% recommend and refreshing not to be hit with a large bill."
About our model
Joint Venture Partnership is the only model in the industry that gives you complete TRUE clinical freedom. You're independent to make your own clinical and practice-based decisions, allowing you to run your practice, your way and enables you to have the freedom to make the best decisions for your patients.
Partnering with us enables an affordable route to ownership, making the dream of owning your own practice more achievable than ever.
We have 12 dedicated departments that support you in all aspects of business, setting you on the path for success. Our model includes a guaranteed salary from day 1 whilst having the security of being part of a wider group.
Get in touch
To find out more about ownership at Vets4Pets Wallasey (Bidston Moss) or more around how our model works, contact Bronwen Ballinger on 07719072463.