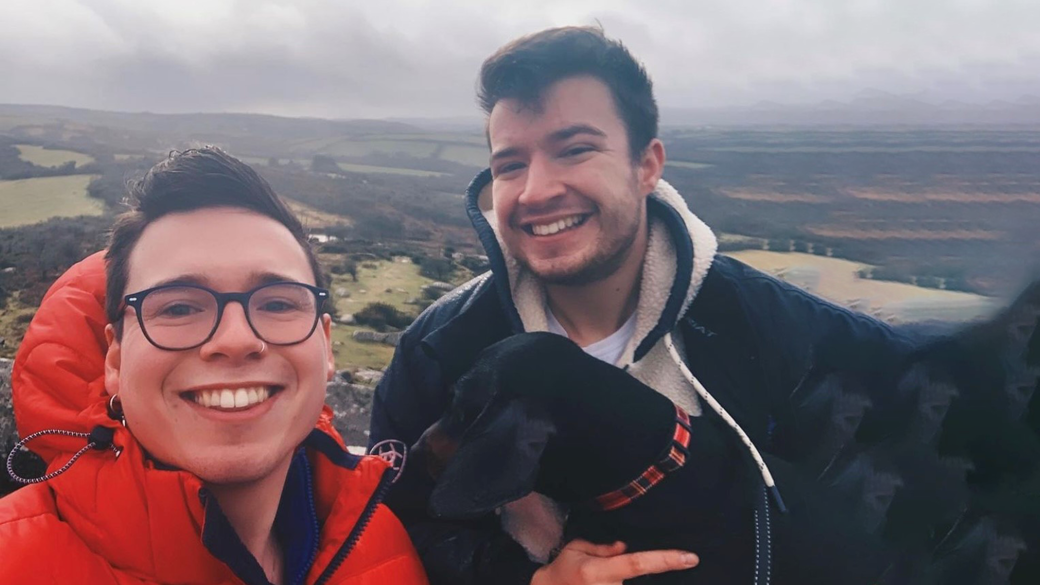 Hear from our Graduates Christian and Will
We caught up with two of our newest Vets, Christian and Will who graduated from Surrey Vet School last summer, to reflect on their journey and time with us so far!
We both graduated from the University of Surrey in 2021, after an eventful and tumultuous last few months of the degree, all thanks to COVID! Christian works for Vets4Pets in Amesbury, also his hometown growing up, and I (Will) am now working with the lovely team at Companion Care in Winnersh, a very different setting to my childhood in Cornwall. We both have very similar interests when it comes to Veterinary Medicine, small animal work with a hint of exotic medicine, which made the prospect of finding jobs very nerve-wracking, as the idea of being in direct competition for opportunities was incredibly likely. We had both had very positive EMS experiences at practices belonging to various large veterinary groups in the UK, and knew we wanted our first positions as veterinary surgeons to be with a graduate programme due to the structure and support they provide.
For new graduates there are so many opportunities and graduate programme available, what was it that stood out for you about Vets4Pets/Companion Care?
The team at Vets4Pets support office were fantastic from the moment we first enquired about the graduate development programme, going above and beyond to find positions commutable for us both and matching us with practices that would suit us best, but ensuring that we never went up against each other for the job. We both feel that, as well as really clicking with our practice teams and JVPs, this initial support from the graduate programme team really solidified Vets4Pets as the group we wanted to become a part of.
How did you decide that those practices you were put forward to, were the right practices for you?
Will: Right from the initial few minutes of my interview with my JVP, I knew that what I was looking for in a first job as a veterinary surgeon aligned really nicely with the graduate opportunity at Companion Care in Winnersh. We then organised a number of "trial" days at the practice over the weeks before I started, to allow for me to get to know the team and the way that the practice runs, without the pressure of first-day jitters! Trial days are fantastic opportunities to help calm any uncertainties about making a decision like a first job, and I am a massive advocate for them.
Christian: "For me, location was paramount to retain strong links with my family. However, what it really came down to was the level of dedication the practiced displayed they had for potential new graduates; I was interviewing them as much as they were me on the trial days! I ultimately based my decision on which practice had the firmest plan in place for medical, and most importantly, surgical development."
What has the first 6 months in practice been like?
Will: An absolute whirlwind! It's really flown by and I've not yet had a day where I haven't learnt something from my team. Of course, it's daunting at first (and still is, some days!) going into the big wide world with "veterinary surgeon" on your name badge, but I've been incredibly fortunate to have the support of my JVP and vet/nurse colleagues to allow me to flourish. Mistakes and confidence-wobbles have happened, as I knew they would, but most importantly I have learnt from these and never been judged for them.
Christian: "A very, VERY steep learning curve! You don't realise the extent of just how much you'll learn on the job; a large portion of day-to-day life is your own practice's protocol, and client communication. You realise the rest of it all is still in a textbook! I would be lying to say the tingle of nerves have completely gone away, as you never know what you're going to walk into every day. But the sense of achievement knowing you made a difference to animals' and peoples' lives is unmatched."
How has the Graduate Development Programme positively impacted your experience so far?
Will: The CPD opportunities organised as part of the graduate development programme are really great. They're regular and on really interesting topics that are relevant to our stage in the programme and the amount of time we have spent in practice. My favourites so far have been the practical dentistry and soft tissue surgery days at Improve International. Most recently, we had a great couple of days with Idexx pathologists talking all things haematology and histology, and I was able to go back to work the following day and teach colleagues all about what we had learnt- we now regularly mention these new things when discussing cases/running lab samples.
Christian: "Having all my CPD pre-planned has been a tremendous weight off my shoulders and giving me security that my continued learning in first two years will be of a fantastic standard. I have found the information you gain the first couple of years out will form habits that will stick with you for a very long time, so this is incredibly important! And again, the many pastoral avenues of the Programme mean you know you always have someone to go to should you have any form of issue.
If you could give any advice to a final year student looking for their first job, what would it be?
Will: Meet your practice! The graduate development programme and everything it offers has been great for both of us, but the most vital aspect to having a successful and fulfilling first job is a supportive, happy and high-functioning veterinary team on the day-to-day. Be honest about your strengths/weaknesses during the interview process and this will minimise any difficult surprises for both you and your new colleagues when you start.
Christian: "Do not rush into taking a job because your peers have! I cannot emphasise this enough. It can be quite daunting to watch those around you accept their first ever vet job when you still haven't secured one. Take it from someone who was the last in their friendship group! But I'm so happy that one rejection led to the door of my current practice opening, as it couldn't suit me more. Also, allow yourself at least a month off before starting! COVID meant our year finished very late and some people only got two weeks off, which was absolutely not enough time to rest!"
What does the future look like for you both?
Will: I'm really developing a passion for surgery- the surgical theatre is becoming my happy place when I'm at work so I'd love to explore where that takes me, whether it be working towards a post-graduate certificate or going into the world of teaching one day! For now, you will find me muddling my way through a huge range of cases, from hamsters to Hungarian vizslas, and seeing which spark my interests the brightest
Christian: "That's a tricky one! I can't say for certain, but l'Il most likely stay in general practice for a few years after the graduate programme. I would love to pursue a MSc in Wild Animal Health, and factor in teaching, wildlife/charity work or research into my day-to-day too. The important thing for me is to reflect on what aspects of my job make me most fulfilled and aim towards them."