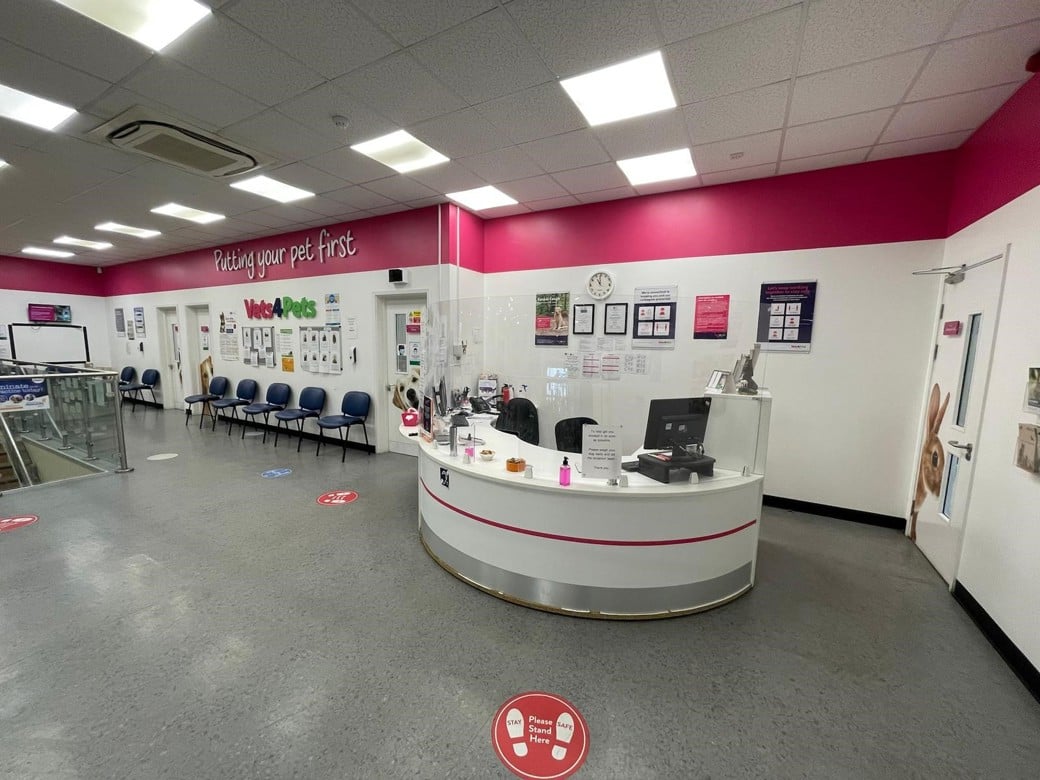 Practice Ownership at Vets4Pets Southend Airport
About the practice
Vets4Pets Southend Airport is a busy, profitable practice with an impressive year on year growth, currently averaging between 220-260 visits per week.
It is a well established and highly regarded practice in the area, on a spacious mezzanine level inside the Pets at Home store on the Southend Airport retail park. The instore position provides a great commercial opportunity in continuing to work together with the store team, developing ways to drive footfall and increase engagement.
The practice has been RCVS PSS accredited since 2018 and an RVN training practice since 2015. The practice was also awarded RVN training practice of the year for 2021.
There are 3 consult rooms, open plan dispensary, prep area and lab area, theatre, separate cat and dog wards (with one walk in kennel), an isolation room, a small kitchen/office and a separate toilet. There is plenty of free onsite parking for clients and colleagues and the practice is minutes from the A127. The Greater Anglia train line runs beside us with great links to London and beyond. The airport is once again expanding its flight offerings following the pandemic, so this will offer even more opportunities for travel in the future.
On offer to a potential partner(s) is a high performing practice with an excellent, dedicated team of colleagues, with approx. 4000 active clients, split canine/feline and small furries.
About the team
The practice prides itself on its friendly and welcoming team members – we are very much a 'family' who support each other and are dedicated to providing an outstanding service for our clients and their pets.
Our JVP, Practice Manager and Head Nurse have all been with the practice since it opened 7 years ago. We have 2 full time vets, 2 RVNs, a student nurse and 3 receptionists.
Front of house we have a strong reception team in place, supported by our practice manager.
There are many excellent online client reviews showing the level of care and compassion provided by the whole team.
Equipment
The practice boasts
a comprehensive Storz endoscopy suite, which was brand new in 2021. It comprises of a fibrescope, rhinoscope and gastroscope, allowing many different procedures and investigations to be performed.
2 anaesthetic machines that use the piped oxygen set up already present. Oxygen is piped to one consult room, theatre, prep area and the dog and cat wards
X-ray machine in the same consult room as the piped oxygen
AGFA CR30 –X digital x-ray processor
Colour Doppler ultrasound machine
Dental machine
Lab equipment consists of Abaxis blood machines, Idexx Snap Pro and a Zeiss Primostar 3 microscope which was new in 2021
Theatre equipment consists of suction, a multiparameter machine for ECG and capnography together with a diathermy machine
About our model
Joint Venture Partnership is the only model in the industry that gives you complete TRUE clinical freedom, you're independent to make your own clinical and practice-based decisions, allowing you to run your practice, your way and enables you to have the freedom to make the best decisions for your patients
Partnering with us enables an affordable route to ownership, making the dream of owning your own practice more achievable than ever.
We have 12 dedicated departments that support you in all aspects of business, setting you on the path for success. Our model includes a guaranteed salary from day 1 whilst having the security of being part of a wider group.
Get in touch
To find out more about ownership at Vets4Pets Southend Airport or more around how our model works, contact Charlie Collier on 07816 373530