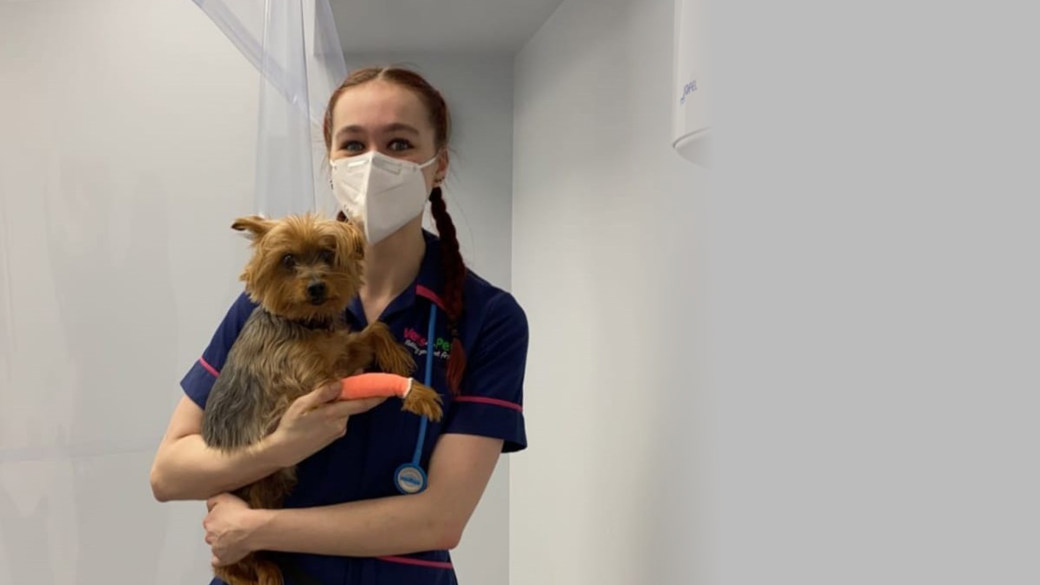 Meet Rebecca
Meet Rebecca, one of our truly inspirational colleagues with a career journey that shows what is possible within the Pets at Home Group.
Meet Rebecca, one of our truly inspirational colleagues with a career journey that shows what is possible within the Pets at Home Group.
Rebecca's career after University started at Pets at Home working in one of our retail stores and progressed to becoming a Clinical Coach Registered Veterinary Nurse within Vets4Pets.
In Rebecca's own words:
I started working at Pets at Home Forster Square once I had finished my BSc in Animal Management, after a year of working here I was recommended to Vets4Pets Eccleshill (now Bradford Idle) by a friend and was hired as a Veterinary Care Assistant/Receptionist. In my interview, I expressed an interest in becoming an Registered Veterinary Nurse (RVN) and a year later my Joint Venture Partner, Tamsin, and Practice Manager, Tracy, decided they would like to "grow their own" RVN and proceeded to support me through the two year college course a year later!
I completed the apprenticeship while working full-time hours and, to my delight, I became an RVN! I have since been getting used to everyday life as an RVN and have started my own weight and oral health clinics. I have recently completed my Clinical Coaching course so I can pass on my enthusiasm and love for the beautiful animals we get to see and for our profession.
What do I enjoy most about my role?
Being able to come to work knowing my team are here to support me and knowing that I can be myself and have fun at work, alongside supporting my team and providing as much love and compassion to every animal that comes through the door.
I also really enjoy that Vets4Pets actively encourage me to develop my knowledge, as this is something I have always looked for in a job.
My advice for prospective candidates:
If you have a passion for providing the best care for pets and their owners and working in an ever-changing, interesting, challenging field then Veterinary Nursing is for you!
Tamsin Chance, Joint Venture Partner at Vets4Pets Bradford Idle said:
It was clear from her initial interview that Rebecca was hard working and ambitious. I was so impressed with her work ethic and drive once she started work that I supported her through her nurse training. It has been amazing to see her blossom in to a hardworking, knowledgeable and confident Registered Veterinary Nurse. She is an integral part of our team now and I am very proud of her.
To find out more…
With a fantastic CPD allowance, friendly and supportive teams, and practices across the country; your future is just a click away. If career development within a progressive veterinary practice is part of your career plan, visit vet careers page (www.vets4petscareers.com/vetcareers) to read more about what we can offer and either register your interest for future roles or apply for current vacancies.