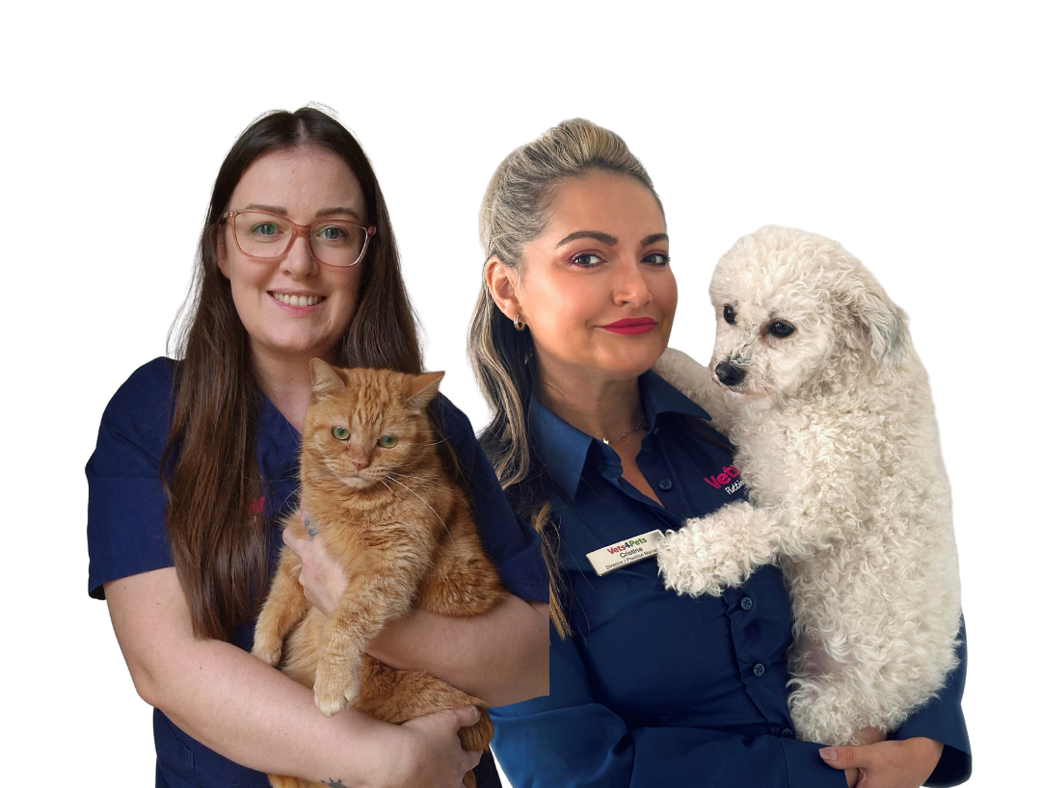 BLOG: Second practice success – Joint Venture Partners Leah Whitlam and Cristina Cozmescu
Head Nurse Leah Whitlam and Practice Manager Cristina Cozmescu first became partners of their own practice in 2018, by 2022 they were ready to expand their partnership and began exploring potential contenders for a second practice. In early 2023, they signed as Joint Venture Partners at Vets for Pets Leamington Spa, their second practice. We find out how they have established the perfect partnership.
Leah Whitlam was just 24 years old when she signed at Vets for Pets Coventry Walsgrave, she was already working in the practice when the existing Joint Venture Partner decided to exit the business. At the time, she had never considered that business ownership would be a part of her future, she had also only recently had her son.
Cristina Cozmescu had started life in finance, she'd worked as a volunteer at a Romanian Rescue where she fulfilled her passion for working with animals. In 2012, Cristina moved to the UK and began working at Coventry Walsgrave as Head Receptionist, before becoming Practice Manager and assisting the previous JVP run the business.
When the opportunity arose for Leah and Cristina to join forces and become partners at Coventry Walsgrave, they realised the great potential of the business and took the leap.
In the early days, they had a receptionist and a vet. In addition, they continued to work as Head Nurse and Practice Manager "it was hard work at first" but now the practice has a strong team of 24 with a great reputation for their retention "we have people approach us asking if we have vacancies – that's a great feeling" Leah says. They also support two graduate vets through the Vets for Pets graduate programme. They have great room for growth and expansion within the practice to further build on its reputation and success. The practice was debt free within four years.
It was this success that led the pair to seek out the chance to become JVPs at their second practice "Leamington Spa was not our first choice, but it has fantastic potential, so we went for it" Cristina said, and they signed for their second practice in March 2023, just five years after signing for their first.
They were able to hire colleagues that had previously worked for them at Coventry Walsgrave, offering them the chance to work for them at the Leamington Spa practice. Gradually, they have appointed full time permanent vets and moved away from using locums "we can already see the business growing" the client base has grown, and it is thought this is due to the consistency that the practice now has.
Being a multi-business owner
Running two practices has had a positive impact on their own work-life balance, Cristina said, "We have found we have more time now having the second practice, we have teams we can trust with the day to day, we have a Practice Manager at both practices" Leah continues "we split our time with one of us being at each of the practices, ensuring the team has one of us to hand for anything they might need". Having trust in their team at each of the practices means they can take a step back. But that's not at the cost of their team's own home life "we offer a four-day working week and flexible working. It's vital to us that our team has that great work-life balance – If they are happy, we are happy. Their success is our success" Leah states.
With a Lead Vet in each practice who is involved with the clinical decisions, Leah and Cristina make sure the team is informed of any decisions and an explanation is provided as to why they may have been made. This means the team feels supported and involved.
What makes their partnership so successful?
"We think the same, we have a great relationship and wouldn't want to go through this experience with anyone else" Cristina continues "It is hard work, but there are huge long-term benefits. It can be easy to spread yourself too thinly, our partnership works because we have the same vision and mind."
On Joint Venture Partnership with Vets for Pets
"We have the best of both worlds" Cristina states "I wouldn't want to do this independently; we have the support of Vets for Pets if we need it" They also credit a lot of their success to their Area Relationship Manager whose support has been an important factor to their growth.
They've been able to build themselves a secure future and have the drive to continue their successes in an area they hadn't thought was ever possible Leah says, "we have both personally grown so much in the past five years."
What's next for Leah and Cristina? We'll have to wait and see!
Start your journey...
If you'd like to find out more, contact the Partnership team for an informal chat, this is an opportunity to understand more about how our business model works, the financial investment, the support that you will receive from our support team colleagues, and the type of business opportunity and locations available.
Find out more about Joint Venture Partnership
Whether you're a vet, RVN or Practice Manager, becoming a Joint Venture Partner with Vets for Pets allows you the freedom and independence to run your own veterinary practice.