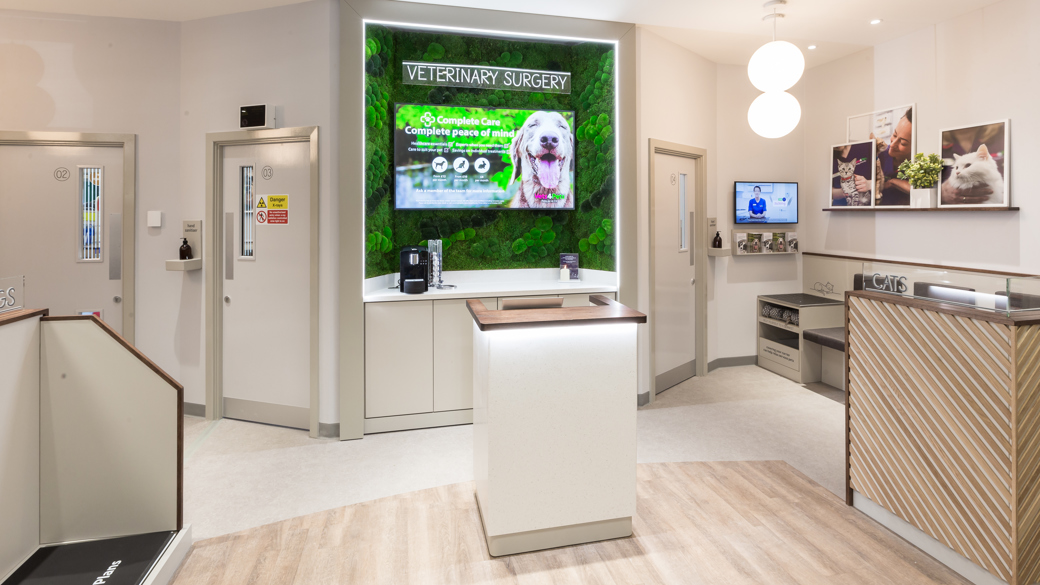 Vets4Pets Beckenham
A brand new innovative look and operating model Opening early 2023.
The Opportunity
We're looking for ambitious clinicians with entrepreneurial spirit to take on the running of a brand new innovative practice in Beckenham. We're keen to talk with anyone who wants to consider Practice ownership, or if ownership isn't for you, we're happy to discuss an employed role of Clinical Director.
It's not just the look of the practice that's different. Our brand new operating model "Pathfinder" utilises advances in technology, practice design and colleague structure to enhance the pet, client and colleague experience to create the future of our practices and their profitability.
With a brand new opening, we can tailor the practice to compliment your clinical interests and long term plans.
Partnering with us
Our Joint Venture Partnership model allows vets, nurses, and practice managers the opportunity to become a practice owner.
Joint Venture Partnership is the only model in the industry that gives you complete TRUE clinical freedom. You're independent to make your own clinical and practice-based decisions, allowing you to run your practice, your way and enables you to have the freedom to make the best decisions for your patients.
Partnering with our business experts across 12 key functions, we help develop your commercial and leadership skills and experience, setting you on the path for success. Our model includes a guaranteed salary from day 1 whilst having the security of being part of a wider group.
Tour our new look practice
The new operating model
At its core, Pathfinder is about utilising advances in technology, practice design and colleague structure to enhance the pet, client, and colleague experience to create the future of our practices.
Enabling operational efficiencies by allowing for more clients to be seen per consulting vet (whilst avoiding a 'conveyor belt' approach) and allowing time to write up notes, conduct clinical investigations, and ensuring a good work-life balance
Colleagues focusing on what they are qualified to do and enjoy the most.
Clients getting a gold-standard service.
Pets getting the treatment they deserve.
Efficiencies allowing more clients to be seen per vet.
A strong business performance as a result.
Why are we doing it?
We would like to address the vet retention and recruitment crisis by making our practices the best choice for vets. We want people to want to work with us and see no other way of working.
It provides a career opportunity for PHAs – Creating a career path within the practice
We want to reduce the 'Front and back' Mentality that some practices experience
Allow Clinical Colleagues to do more of what they enjoy
Better communication throughout the practice
Improved service, communication, and engagement with clients in meeting the needs of their pets
About Beckenham
Beckenham doesn't really feel like part of London, with its leafy suburban streets and village atmosphere. But this suburb, straddling town and countryside, is a part of the capital - and it takes under half an hour to reach Central London.
Thanks to its attractive high street and handsome period buildings, Beckenham is the kind of area that is unequivocally viewed as A Nice Place. It's no surprise, therefore, that it was recently voted as one of the best commuter towns for families.
Well connected? Great connections, great choice. There are three stations (Beckenham Junction, Beckenham Hill, New Beckenham), plus a tram to Croydon. It sits within Zone 4
Schools Primaries: Worsley Bridge, St Mary's Catholic, Clare House and Balgowan are all "good", says Ofsted. Secondaries: the Harris Academy Bromley and the Harris Academy Beckenham are both "good"; also the Bishop Challoner and Kings independents.
What to do Beckenham Place Park, the area's biggest green space, has just received a £4.9 million Heritage Lottery Fund restoration that sees a new café and education centre, 15,000 trees planted and a lake for wild swimming.
Retail… The centre has a smashing selection of independent cafes, bars, shops and restaurants.
Where to buy If you are after space but still commutable into London, Beckenham's a great option. There's a bit of everything, with Victorian and Edwardian detached, semi-detached and terrace houses; Twenties and Thirties detached houses and semis, and modern flats mainly near the town centre. It's much more affordable than in most London equivalents.
Our new Pets at Home store look
Get in touch
To find out more about ownership at Vets4Pets or how our model works, contact Samantha Culling on 07890 044 014 or email using the button below.