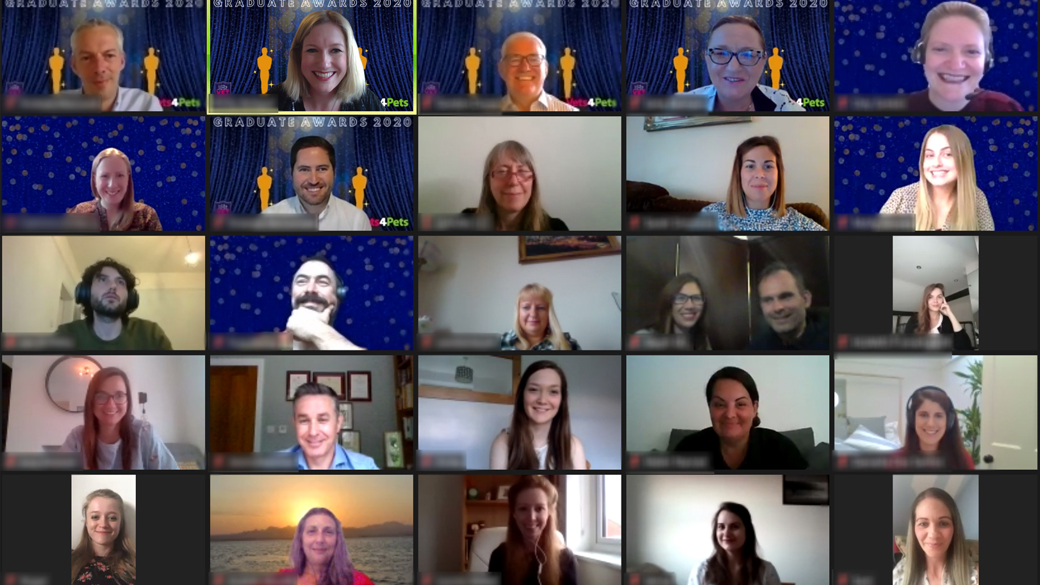 And the award goes to…the 2020 Vets4Pets Vet Graduate Awards
At Vets4Pets, we're incredibly proud of our Graduate Development Programme for newly qualified vets and the hundreds of vets who started their first years in practice with us. Our programme puts these colleagues at its core, helping them to develop their clinical and non-clinical skills in a supportive and team-focused environment where they can shine, gain confidence, celebrate firsts and applaud their successes.
Each year, we give out graduate awards, one of the annual activities our entire Group looks forward to. This is usually done during our Partner Conference, which this year was postponed, so in June, we took our grad awards online, hosting a virtual 2020 Grad Awards ceremony. We were thrilled to not only have the nominees in attendance, but members of the Vets4Pets executive team, Joint Venture Partners and special guest Daniella Dos Santos, the British Veterinary Association President.
It was great to attend such a truly joyous event, and for many, it was an emotional occasion especially since we were celebrating and shining a light amidst a global pandemic.
Emily Bridges, a veterinary surgeon and Vets4Pets' graduate programme lead, said: "This a particularly difficult and stressful time for everyone, so it was brilliant to come together, albeit virtually, as a Vets4Pets community to celebrate the fantastic achievements of our grads."
So, onto the winners…
Graduate of the Year: Diana Cavaleiro, Vets4Pets Maldon
This award, which received more than 45 nominations, recognises a graduate who has worked hard clinically and personally during the year to overcome challenges and integrate themselves within their practice and team.
Diana joined Vets4Pets Maldon in August 2018, having moved to the UK from Portugal.
Diana said: "Winning this award was really important for me. I never expected to win, and when I did, I felt love for everyone who recognised my work and thought I deserved this award.
"My colleagues at Vets4Pets Maldon have really helped me to progress and have helped me become more confident with my English. Everyone has played a role, including the kind and helpful receptionists, the experienced vets who share their knowledge, our amazing and patient nurses, and our Practice Manager Jane. Thank you very much guys!
Vets4Pets Maldon's Practice Manager Jane Hayden said: "Diana's delivering of information to clients has been outstanding. She has an amazing way with clients and is very popular with them and has developed a wonderful bedside manner that shows she really cares.
"I am so proud to say that Diana is part of our team. She is loved by all her colleagues, and I am confident she will flourish in her career and have great success ahead of her."
Graduate Practice of the Year: Vets4Pets Cardiff Bay
This award recognises a practice that goes above and beyond to foster a nurturing support network and inclusive working environment for its graduates.
Lorna Beeley, a Vets4Pets grad, nominated the practice, saying: "I've been lucky enough to be part of Cardiff Bay's phenomenally talented veterinary team and family for two years. I nominated them for this award as I really wanted them to receive the acknowledgement they deserve."
Helen Navran, the practice's co-Joint Venture Partner and Veterinary Nurse said she was surprised and delighted to be nominated for this award, let alone to win.
"It was a very proud moment for our whole team. The Vets4Pets Graduate Programme is something our practice is very passionate about. It has brought us two incredible young vets who have become an integral part of our team."
Samantha Bird, co-Joint Venture Partner and Vet Surgeon at Vets4Pets Cardiff Bay, added: "For us, animal welfare is the most important foundation to our job, and to continue providing a high level of animal welfare in the UK, we need great vets. Hopefully, we're helping to achieve this by supporting and mentoring the next generation of vets."
Special Recognition Award: Vets4Pets Falkirk
Vets4Pets Falkirk received a special recognition award for its outstanding, and ongoing, contributions to helping graduates.
Samantha Kurt, lead vet for the practice said: "I was totally surprised when our name was announced. I was gobsmacked. Our entire team works really hard with new grads to help them become the best they can be so this is a fantastic recognition for all of us.
"When I was a new grad, I was extremely lucky to have supportive bosses who helped me to build a successful career. I know many new vets don't experience that, and when I hear stories about someone not doing well, or not receiving the support they need, I just want to step in and help them get to where they need to be. As newly qualified vets, it's not fair if they don't get the support they need."
Vets4Pets Clinical Development Manager for the North, Orly Simkin, was thrilled for the practice saying the Falkirk team is always more than happy to support and guide new grads (and returning vets) with surgical procedures and techniques, how to effectively run consultations and develop good communication skills.
Says Orly: "They are keen to share knowledge, both clinical and non-clinical, with fellow vets and provide a welcoming and safe environment for learning."
We'd like to salute all of our grad colleagues, the nominees, those who were shortlisted and each award winner. You truly are all amazing, and to our graduates, we're thrilled to not only recognise just how far you've come since your university graduation ceremonies but to celebrate all of your achievements and successes no matter how small or large and to be part of your vet career journey.