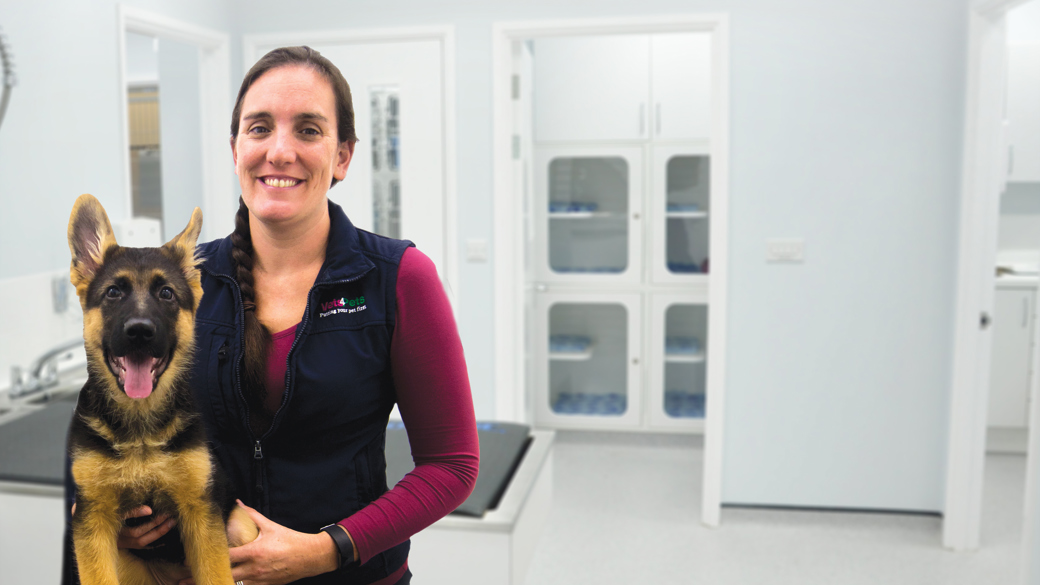 Milestone celebrations for RVN and JVP Rachel
This year sees a handful of milestone celebrations for RVN and Joint Venture Partner (JVP) Rachel Smith. Here, we find out more about her long-standing veterinary nursing career and business success, having signed up as Vets for Pets' first RVN JVP 20 years ago...
Thirty years ago, when she first stepped foot into a veterinary surgery and found her love for animal care, Rachel probably didn't think that, years later, she would be the owner of two successful veterinary practices – and be celebrating so many major milestones with her career.
It all began in 1993 when having completed work experience in a local vet near her home in Northumberland, Rachel had decided what she wanted to do with her life. She recalled: "I finished my GCSEs on the Thursday and began work at a local practice the following Monday. They were a farm vets and it was a brilliant start for me. It was an old school vet, but I really enjoyed working there."
In 1998, Rachel qualified as a veterinary nurse. A few years later, in the spring of 2002, Rachel attended a CPD event and it was here she first learned of joint venture partnership. At the time, she was working in a mixed practice in Northumberland. She said: "The speakers came from many areas, including those who were practice managers and those who worked in laboratories. "A representative from Vets for Pets spoke about the practice ownership model. This caught my attention, and in less than a year, I opened the eighth Vets for Pets practice in partnership with a vet."
It was in 2012 that Rachel became the sole JVP at Vets for Pets Sunderland, which had opened in 2008, and less than five years later she was opening her second practice – Sunderland South – where she is JVP with fellow RVN Claire Beckham, who had been working for Rachel at the Sunderland practice. Together, the two practices have a team of 34 and are run as a single practice, but over two sites.
Rachel explained: "We have eight vets and have a new graduate from the Vets for Pets Graduate programme starting in July after being recruited a year early. I am always trying to look forward."
Rachel is also keen to keep the local talent as much as she can and encourages her vet team to achieve their clinical ambition. She said: "I always want to grow the talent of the team and keep as much in-house as possible, as it helps the practice itself grow further, too."
Rachel is a huge advocate for veterinary nursing – and for providing her nursing team with every opportunity to develop their skills in any way possible. She said: "Some of my nurses have qualifications higher than mine, but that's what I want. Within my practices, we made the decision to have one vet for every four colleagues. Vets don't need to do all the work; it takes the pressure off them, leaving them to develop their clinical skills."
Rachel's practices accommodate student vet nurses, with three aiming to be fully qualified by the end of the summer. She believes that as nurse-led practices, they attract more nurses to join their team. Using the skills of her staff members to ensure they are placed where they are best suited helps the practice run smoothly and maintains a content team.
As for Rachel herself, she takes less of a hands-on role now. She said: "I'm not included in the rota anymore – this came out of COVID, where I was considered high risk and needed to isolate. I now split my time between both practices and working remotely, taking on more of a practice management role."
However, Rachel still has a keen interest in dental hygiene and will get stuck in when she can and covers when needed.
Joint Venture Partnership
When it comes to being JVP, Rachel is keen to encourage others to investigate practice ownership through the Vets for Pets joint venture model. She said, "There are a lot of opportunities within Vets for Pets" and has spoken to RVNs who are considering buying their own practice as part of their career ambitions.
Rachel continued: "It's hard work, but I have acquired a lot of business skills since becoming a JVP and have developed in many different areas – from management to IT.
"I have always been very passionate about letting nurses do what they are trained and capable of doing – not just holding pets and cleaning kennels, but so much more. I love that as a practice owner, I can do this, and help them all progress their skill sets and their careers."
What's next?
Rachel said: "While I've been in the industry for 30 years, I'm still 20 years from retirement, and I'm not even sure I'd want to retire – perhaps my next step is a non-clinical role."
In the meantime, she is enjoying watching her Vets for Pets family grow, which includes her daughter, who joined the Vets for Pets family as a client service advisor around 18 months ago. She said: "She was just three when I opened my own practice – Vets for Pets is all she's ever known!"
Three other mother/daughter combos are within the team, meaning, as Rachel said, "we're developing the next generation".
So, let's celebrate the following with Rachel:
30 years in the veterinary industry
25 years as a qualified veterinary nurse
20 years since signing as the first non-vet JVP at Vets for Pets
And we can't forget her 10-year wedding anniversary!
Congratulations on your achievements, Rachel!
Start your journey!
If you'd like to find out more about practice ownership with Vets for Pets, contact the partnership team for an informal chat.