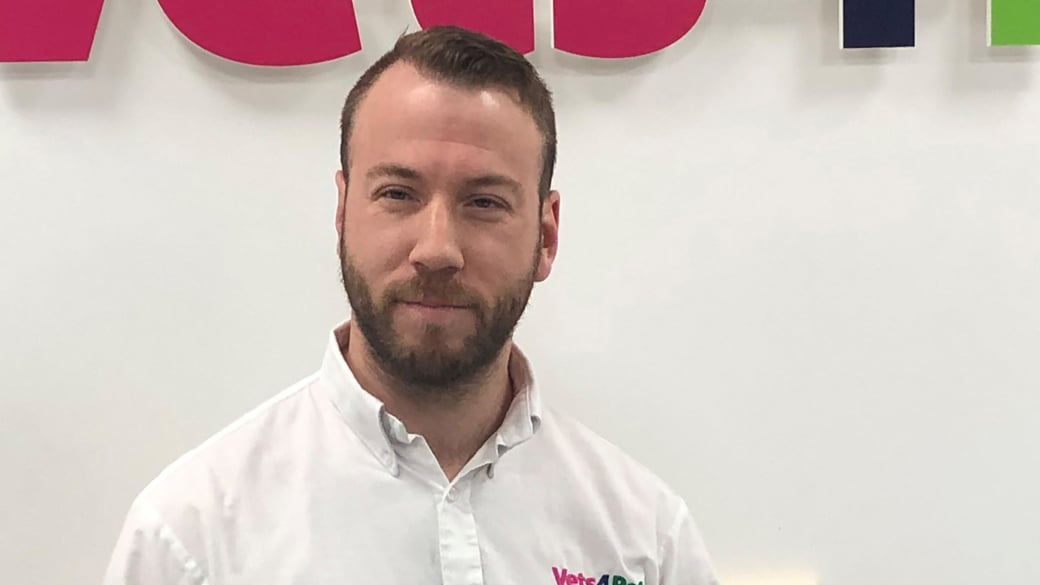 Ten Questions with Practice Manager Andy Booth
Andy is Practice Manager at Vets4Pets Droitwich and a Petplan Awards 2020 Finalist
Tell us about your career prior to joining Vets4Pets.
I earned a LLB honours degree in Law from the University of Nottingham; however, I didn't want to become a solicitor enough to pursue a law career. So, after university, I went to work for an automotive marketing company for five years where I was a team leader for a number of accounts and then managed the company's HR function. It was quite a full on role, and during this time, I earned a CIPD (Chartered Institute of Professional Development) Level 5 HR Certificate.
What brought you to Vets4Pets?
After I earned my CIPD Certificate, I started to think about what I might like to do next. My fiancé is a Vet Nurse with Vets4Pets, and one of her colleagues mentioned an open HR role, and I thought, why not apply.
I was excited to get the role, and in July 2018 I started as the HR Manger for three Vets4Pets practices. Then, in 2019, I moved from that position to become Practice Manager for Vets4Pets Droitwich, which is where I work now.
What's it like to work in a clinical environment, coming from a non-clinical background?
Clinical environments have always interested me. My mum is a nurse, and my sister is a nurse, and as I mentioned, my fiancé is a Veterinary Nurse so although I'm not clinical myself, I've gained a little bit of clinical knowledge through them. But working in a clinical environment is certainly different, and I've found it more challenging to manage people in a clinical setting.
Why is that?
There are a lot of emotions within a clinical setting. There can be extreme pressure and life and death situations. As a Practice Manager, you need to be able to manage the entire environment and clinical and non-clinical colleagues, patients and clients with a cool head.
What does your job entail as a Practice Manager?
There are so many things, and that's why I like it. There is so much variety. Ultimately, I make sure the practice runs smoothly on a day-to-day basis. So, this involves managing the team rota, identifying what needs to be ordered, making sure we have the resources colleagues need to do their job well, getting involved in marketing activities, insurance, etc. Also, colleague wellbeing and training are very important areas to me.
Tell us about the training support you provide?
I help to train all of our practice colleagues on soft skills. I help them to understand what a good consultation looks like, what the client journey looks like, etc. I often sit in consults and go through it with them afterwards and give constructive feedback. It's easy for everyone to get comfortable in a role and stuck in your ways. I like to help others continue to grow and develop and be the best they can be. I like to invest in people and to give them tools to progress.
What do you like the most about being a Practice Manager?
From a people perspective, I like seeing people develop within their role. I love it when student nurses grow into qualified, confident nurses. From an environment perspective, I like how you never know what might come through the door next and the adrenalin rush that comes with that.
I've also learned a lot about animal care and welfare and some 'vet speak' such as DUDE (drinking. urinating, defecating and eating) and BAR (bright, alert, responsive). It's been really interesting.
What would you tell others interested in becoming a Practice Manager?
It's an amazing opportunity and a very rewarding job. You need to be dedicated, and if you're not a clinical person, you need to be prepared to do the background work and understand how a clinical environment works. You can't manage a practice if you don't know how clinicians work, and you cannot successfully manage clinical colleagues if you don't have at least, some clinical knowledge.
Be prepared to work hard and to clean up after the animals and to help out on reception when needed. Just because you're a manager, it doesn't mean it's not your job to mop the floors. Get your hands dirty, and lead by example.
How did you feel when you found out you were shortlisted for the 2020 Petplan Practice Manager of the Year award?
I was in shock. When I heard that Petplan was on the phone, I thought it was an insurance call in regards to one of our clients. I did know about the awards, and I knew I had received some nominations, but I wasn't expecting it at all. I received so many nice messages from clients and colleagues. It's been a really nice experience.
What would you like to next achieve in your career?
I think the next step for me is to perhaps become a Joint Venture Partner. I think I have really strong people skills, and I think that's important to being a successful practice owner. Obviously, I would need to become a co-JVP with a Veterinary Surgeon, but I genuinely believe that a clinical and non-clinical co-JVP ownership team would work really well. I know there are a few within the Group, but there's not yet a non-clinical male JVP. I'd like to break the mould!