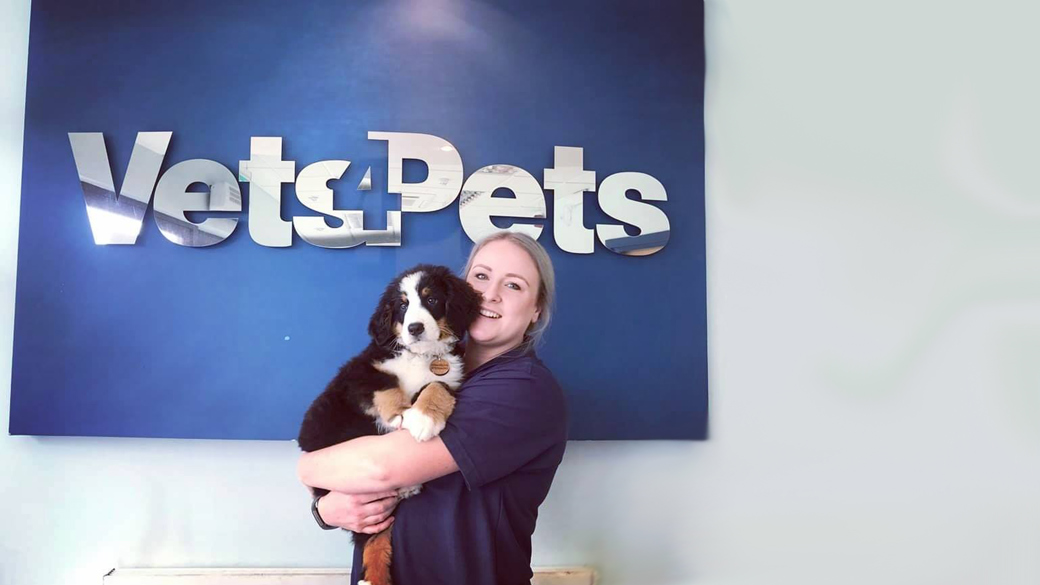 Meet Cara, our Client Care Advisor at Vets4Pets in Bangor Northern Ireland
Our Client Care Advisors support our practices by providing exceptional service to our clients and the best care possible to their pets. Providing an important link between our clients and the clinical team.
We asked one of our valued Client Care Advisors, Cara, about her own career journey leading up to her role and what she enjoys most! Read her interesting story below:
Tell us a little about you and the jobs you've had before working at VetsPets:
My name is Cara, I am from a small seaside town called Millisle originally but now live with my fiancé and 3 dogs in Newtownards (10 minutes' drive from work). I have never worked in veterinary before but have always loved animals. I have always worked with the public and prior to my role here I worked in recruitment for a large contact centre.
Tell us a bit about you and what your role entails:
I work as a receptionist in Vets4Pets Bangor Northern Ireland. My role is to ensure the smooth and efficient running of the practice on a daily basis by liaising with the whole team and our clients. I am the first person to greet our clients and their pets, make sure that they are happy before, during and after their visit in the hope that they return.
What convinced you to join Vets4Pets? What's kept you here?
I love working with people and animals so this seemed like the perfect combination of both. Our practice consists of 9 women and we all get on like a house on fire, we always have nights out together or at each other's houses.
What makes Vets4Pets different to other places you've worked?
We all work as a team here, there are vets, nurses and receptionists but everyone chips in where they are needed and no job is below anyone. It's about getting the job done.
What makes this role different to others you've had before?
Making a difference and seeing an ill patient recover. Every week we have clients that send us gifts, to show how much they appreciate everything we do for them and their pets, that's what makes it all worthwhile.
What's your favourite part of your job?
Doggy cuddles and Kitten purrs!!
What's been your personal highlight?
The day I was made a permanent member of staff. I originally started on a temporary maternity cover basis but the Joint Venture Partner didn't want to let me go when she returned so he opened a position for me.
Tell us about the most inspiring work you've been involved in:
When an emergency comes in and everyone just comes together to help. There is such a feeling of team work, everyone knows where to be and what to do, there is something so special about seeing everyone work together to save a patient. Whether you're the vet that operates or the receptionist that consoles the owner, we all have an important role.
What's an example of a really satisfying day?
All clinics run on time, patients all leave happy and healthy which in turn makes our clients happy.
How does your role contribute to the broader Vets4Pets mission?
Ensuring that patients are looked after to the best of our ability and clients are as happy as possible during their visit to the practice in the hopes of them returning and giving good reviews online or word of mouth.
Tell us about your colleagues:
We have the best team in NI!!! We all get on, work hard and work together to get the work done.
Has working here changed you in any way? If so, how?
Working here has improved my knowledge of animals, veterinary medicine and has made me a more confident person. I feel I have finally found what I was always meant to do.
What does the future look like from where you are sitting?
Continue having a small reception team to co-ordinate, possibly expand the team as the practice does well and grows.
Are you able to be the real you at work?
YES!!!! My work family know me as well as my actual family. We always say that we like to share a little too much in here.
Tell us about your life outside work. Does Vets4Pets support you?
We are all very accommodating when it comes to swapping shifts & needing time off. We work a very flexible rota that our Joint Venture Partner is happy with also.
What would you say to a candidate interested in working at Vets4Pets?
If you love working with people and animals, are willing to work to the best of your ability in a fast pace and rewarding environment, this is the job for you!