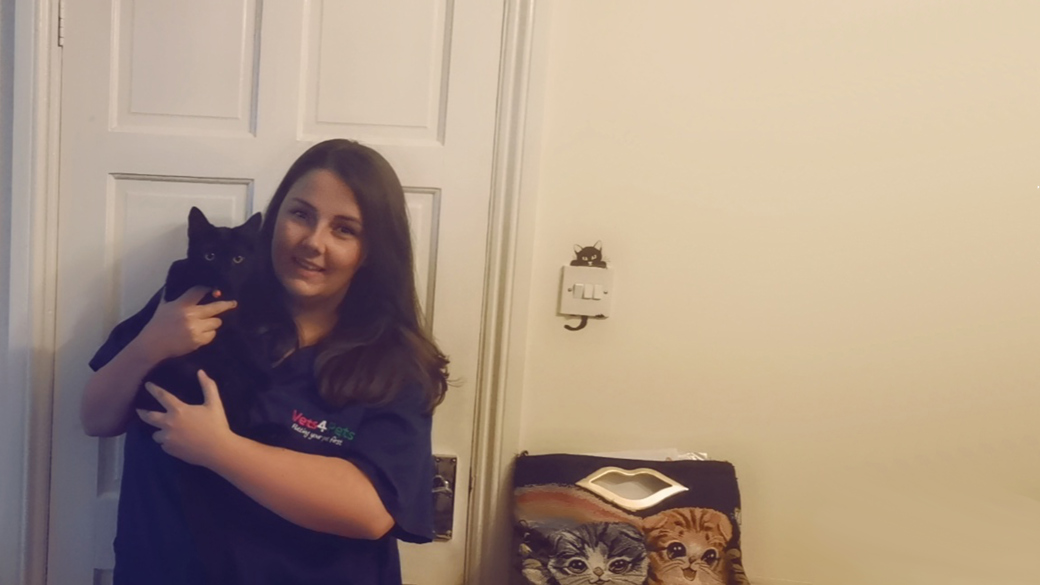 Veterinary Receptionist Appreciation Day: Q&A with Chelsea our Client Care Advisor
It's Veterinary Receptionist Appreciation Day and to mark the day we held a Q&A with Chelsea, one of our Client Care Advisors, to find out more about the vital work she does in her role to support the smooth running of the Merthyr Tydfil Vets4Pets practice.
Tell me who you are, what you do at Vets4Pets and what your role entails.
I'm Chelsea, 28 years young and a receptionist here at the Merthyr Tydfil Practice. My roles include basic housekeeping, answering the phone and emails. Greeting our clients and patients during appointments. Professional Puppy and Kitten Snuggler after their injections.
Tell us about you and your career journey.
Fashion Student turned Crazy Cat Lady – Within the last 5-6 years I have graduated with a Fashion degree, worked with jewellery, in the banking industry and beautiful wedding dresses. Before finally finding my perfect job here at Vets4Pets. I have my own little fur family who I absolutely adore. I love how different their personalities are.
What convinced you to join Merthyr Tydfil Vets4Pets. What's kept you here?
My fur babies come here anyway and I live in the same town. What has kept me here? My amazing team! The support I have off them all both professionally, and personally, is the best. We're like a little family.
What makes this role different to others that you've performed?
I have always worked within the fashion industry so this is a brand new area for me and has definitely opened my eyes to the amount of hard work and effort that goes into looking after our fur babies.
What's your favourite part of the job?
Cuddling the cats and dogs. Exchanging pet stories.
What's been the highlight of your time here?
Honestly, getting to know the clients. And going through their journey with them. From new puppies and watching them grow over their first year, to Mrs O's cat who made a full recovery when we had very little hope.
What's an example of a really satisfying day?
When no one misses an appointment, everyone arrives on time and the banking matches perfectly.
How does your role contribute to the broader mission of Merthyr Tydfil Vets4Pets?
Learning about the care plans, I feel these help to strengthen loyalty between client and vet practice. I do feel pride when answering the client's questions and making sure they know about the plans available to them. I am also included on the Facebook page where I upload posts to update our clients.
Tell us about your colleagues.
We're like one big work family and, Xanda, the Joint Venture Partner, Becky's dog is the world's best cuddler. If I need a cry or if I have a funny story from the weekend they are the first people I want to tell. They're the best team I have ever worked with.
Has working here changed you in any way? If so, how?
It's definitely made me love cats even more but also a better cat mum.
What does the future look like from where you are sitting (both personal and organisational)?
I want to have my own family, just waiting for the right time really. I would like to grow within the practice, maybe practice manager one day?
Are you able to be the real you at work? If so, can you give me an example that illustrates that?
I really am, I suffer with anxiety and if I'm tired or have had a tough morning or hour I sometimes stutter. But I never feel ashamed, I laugh at myself and say how I clearly haven't had enough sugar in my cup of tea. Also, I love building rapport with my clients, I am very sociable, and it really helps as an ice breaker with new clients. It's lovely when your personalities and interests click. Even more so over Covid, when clients couldn't go into consultation rooms.
Tell me about your life outside work. Does Merthyr Tydfil Vets4Pets support you in that?
I'm quite boring outside of work to be honest. I am trying to get to the gym and have a healthier lifestyle and they definitely support me in that. Making sure I leave in time so I get to the gym. Tracey always brings me fruit to eat! Over the weekend you can guarantee someone will receive a funny or cute cat photo of mine!
Imagine I was a candidate you wanted to join Merthyr Tydfil Vets4Pets. What would you say to me to convince me to apply?
If you love animals this is great place to be! I like my hours; the system is easy to learn. You see some interesting cases come in and breeds you've never heard of. You're always supported by the team and if you need help, they may need to finish what they are doing first but they'll be there for you as soon as they can and there's always a kettle boiling if you need a cuppa!