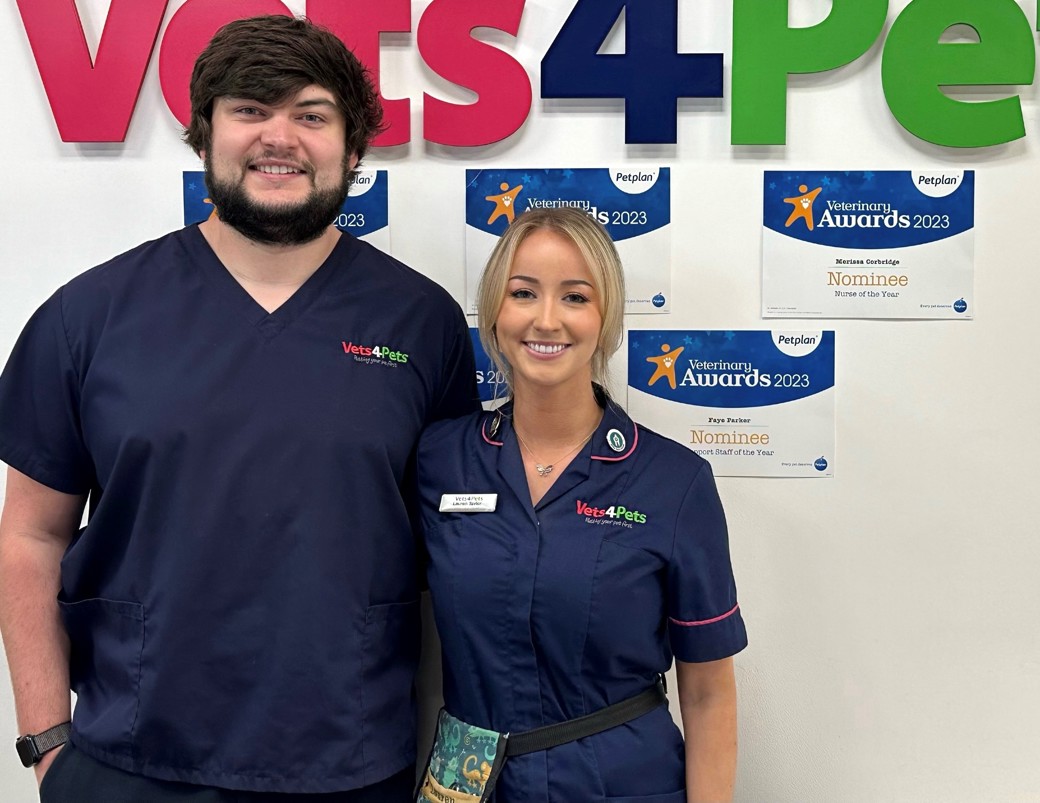 BLOG:New practice ownership for vet Jordan and RVN Lauren at Dorchester Vets for Pets
Vet Jordan Hall had a long-term dream of owning his own practice. Meanwhile, his fiancée RVN Lauren Taylor didn't think it was ever possible for her to join him in his dream of practice ownership – that is until a message on social media changed both their lives...
Jordan had long dreamed of becoming a vet – it was the only thing he ever wanted to do. Meanwhile, Lauren had dreamed of becoming an RVN since she was young. When the pair met while working in private practice prior to joining the Vets for Pets family, they hadn't quite imagined they'd one day become partners in business as well as in life.
When Jordan was contacted through LinkedIn with details of a practice ownership opportunity with Vets for Pets, neither of the pair had been aware of joint venture partnership or what it entailed. Jordan, since qualifying in 2017 as a veterinary surgeon, had always aspired to one day own his own practice. However, as an RVN, owning a practice wasn't something Lauren had considered to be a part of her future. She said: "I wasn't aware there were opportunities out there which enabled RVNs like myself to consider practice ownership."
That was until they began to learn more about the joint venture model. What began to appeal to them about the model was not only the affordability and accessibility of it, but also the fact that it meant that Jordan and Lauren could go into business partnership together. They said: "We hadn't ever imagined we'd be able to purchase a practice together, so it was all out of the blue. It wasn't something we'd planned at all."
That initial message to Jordan was regarding an opportunity available at another Vets for Pets practice. Lauren explained: "This opportunity meant that Jordan could join the existing partnership, but there wasn't at the time the opening for me to become a partner, too."
Learning they could do this together on their own is what became their goal. Lauren continued: "When we heard Dorchester was available and that we could become the sole partners there, we initiated the process of becoming joint venture partners".
The pair joined the business and began working at the Dorchester practice while they went through the process. Jordan said: "This provided us with the opportunity to understand more about how the model worked and the clinical independence we would benefit from and experience the level of business support offered." Lauren added: "It also offered us a taste of what life at Vets for Pets was like".
They completed the process and became owners of the practice in March 2023.
Jordan stated one of the huge attractions of joint venture partnership was the clinical independence. He said: "Unlike some other corporate partnerships, you really do have clinical independence. While support office can assist in securing the best prices, I am able to decide what I use in my practice to best suit my clients. This is particularly important as we offer exotics care at the practice."
Jordan and Lauren have been able to build on their passion for exotics veterinary care, with Jordan undertaking a Certificate in Advanced Veterinary Practice of Zoological Medicine through the University of Edinburgh.
A few months on, how are Jordan and Lauren finding life as practice owners?
Jordan said: "We've had a great start; we were lucky that we were already working in the practice and had managed to implement some of our changes early on. We are already building a great reputation in the area for our care of exotics". Lauren said: "We have referrals not only from within Vets for Pets, but from other local practices, too, and we are building a loyal and dedicated team."
Practice ownership with Vets for Pets
Jordan said: "We are entirely separate from other practices within the wider business. We are individual. We are incredibly proud to call this ours and we tell people this. We are part of Vets for Pets, but the practice is our baby and we run things our way."
Lauren added: "Being part of Vets for Pets is completely different to other corporates. We made a huge commitment; we needed to make sure that the model and joining Vets for Pets was the right thing to do."
For those seeking to understand more about practice ownership with Vets for Pets, the pair said: "You must ask questions – it's all part of the decision-making process. It's a life commitment; you are buying a business and changing your future."
Learn more
If you'd like to find out more about practice ownership with us, contact our Partner Recruitment Team for an informal chat.