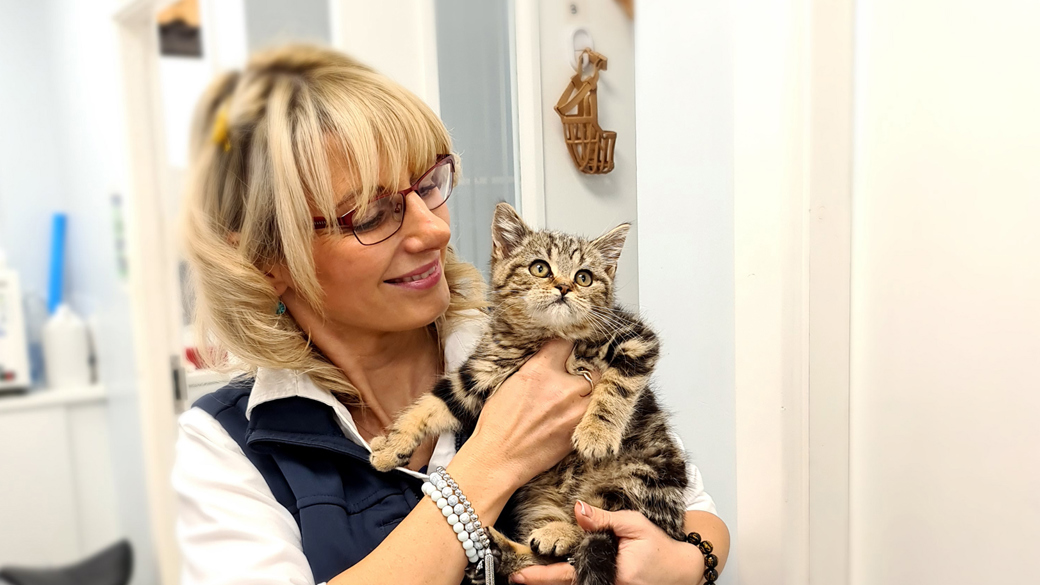 Madalina Obreja – Joint Venture Partner (JVP) - Companion Care Salford
Madalina Obreja, together with her business partner Antonio Nocco, both became the new Joint Venture Partners (JVPs)of our practice in Salford in November 2021. 3 months later we reached out to Madalina to find out about her journey to becoming a JVP with Vets4Pets and how she is finding things.
Previous to Madalina becoming a JVP, she had been working for Vets4Pets for the past 8 years. Madalina graduated from Law university 15 years ago in Romania; last year she graduated from Business and Management University and now continues her studies doing a MSc Global Business and Management course.
Why did you choose to become a JVP with Vets4Pets?
Many other JVP's will say that it's the clinical freedom, financial stability, competitive benefits packages including pension and annual leave, inner growth and all the other benefits that Vets4Pets has offered us JVP's in our journey. For me is all this and beyond. My main focus was to become an example for my son.
I wanted him to say "she is my mum and she made it all by herself. She has managed to stand up and fight for her dreams and for mine, so I could have a nice life". My goal is to make my son proud and happy, and to offer him the support that he needs in his life. I strongly believe that this is achievable by becoming a JVP. I wanted to inspire my son and the generations that follows and my example of becoming an owner of a veterinary practice is actually much more then work, is about making dreams come true and growing on the path of life.
What excited you about the thought of being a JVP? Did you have any concerns?
I will start with the worries part as this is simple to answer, there were no worries. I knew I would have the support I needed before becoming a JVP. For me nothing was new. I was growing and getting support in all my decisions from the day one when I started 8 years ago with Vets4Pets, and the support was there from the beginning.
I don't have words to express my gratitude to all departments behind the scenes as they helped me with this journey. They are patient with me, even if I call them 20 times a day, especially the reception team at Vets4Pets Support Office.
Excited, yes. I dreamt about the day when I would sign my joint venture agreement. It was a dream come true. A dream for that I worked hard for. I was excited to become a Director, I was excited that I would have more financial opportunities and that I could run the business with my own knowledge and expertise. I am also very excited about the opportunities and challenges that will follow.
When did your journey at Salford Companion Care start and what are your plans?
My journey with Salford Companion Care started over two years ago as a manager, I knew I always wanted to become a JVP
I worked hard to build up the practice and the team and we constantly sought opportunity for further development. Having already worked at other Vets4Pets practices over the past 8 years, I knew I wanted to become a JVP and these where my steps to doing it.
Our practice is located within easy reach of Manchester City Centre and we work with Orthopaedics, Internal Medicine and Heart Specialist alongside our permanent team, that are supported by us in further certificates studies. We are looking forward to more growth, and in the next few months we are looking at expanding our practice, by adding an additional consult room, expanding the reception and rebranding to Vets4Pets from Companion Care.
Tell us more about your team. What kind of team does it take to run Salford Companion Care?
My team…I couldn't be here without their hard work and commitment. I am so proud of them, and I acknowledge that we wouldn't be here without their support. We have an amazing international team with colleagues from England, Greece, Italy, Spain, Romania and Poland and we work so well together and have become great friends.
We are a team of 20 colleagues and it's amazing to know that we will continue to grow. We have 5 vets including my business partner Antonio Nocco, 3 Student Nurses, 3 veterinary care assistants, 1 Head Nurse, 1 Deputy Nurse, 1 Client Care Manager and 5 Client Care Assistants… and of course myself.
When I started in Salford 2 years ago, we didn't have a stable team and the practice was being clinically supported by locums. There was little team interaction at that time, but now we've slowly grown and have a great team and finally we have become more like a family.
What does the future hold?
I didn't come this far to now stop! I told myself that when I get this goal, I'll seek MORE. Not more things but more growth, and constantly pushing myself to do better. I came this far so I could be strong enough to push myself harder.
I am already looking at the next step with Vets4Pets and would like to own another Vets4Pets practice in and around this area - Fingers crossed by the end of this year, we will become JVP's for a second practice.