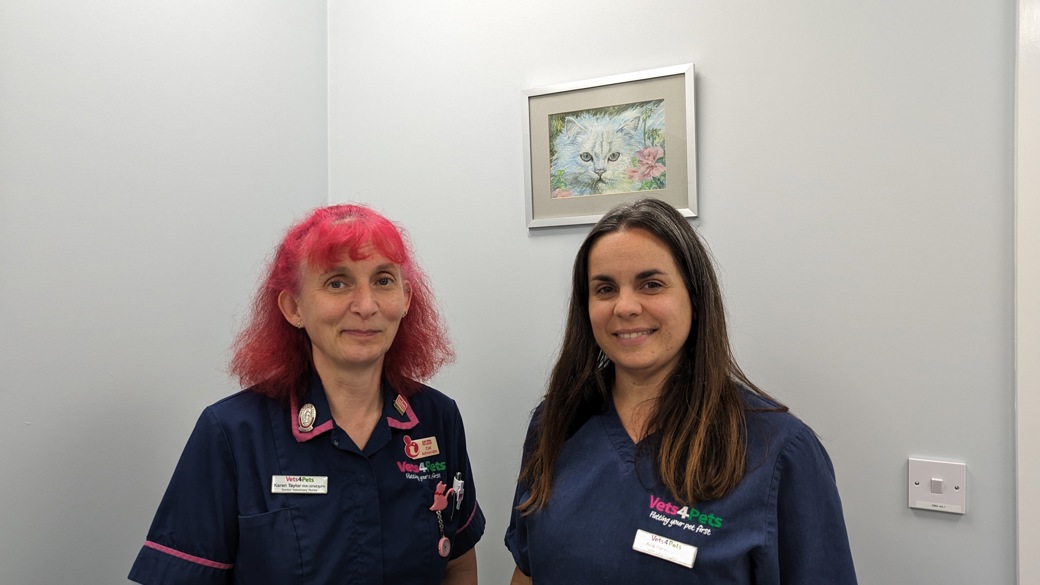 BLOG:Ana and Karen's shared passion for their clients and colleagues
Practice owners Ana Perez Castro and Karen Taylor had been working together for two years prior to deciding to take on a new opportunity…
When the former partner made the decision to sell her shares, she offered vet Ana the opportunity to buy into the practice, as well as providing fellow partner and RVN Karen the opportunity to purchase additional shares in the practice. Ana said: "I was asked when I first joined the team in 2020, but I wasn't ready. As time went on, Karen and I discovered we worked very well together and that led me to reconsider practice ownership with Vets for Pets at the practice."
Ana originally graduated from veterinary school in her native Spain in 2008 and came to the UK in 2010. She returned to Spain to continue her studies, but before returning to England, came back on a one-year internship, which she completed in Swindon. Following this, Ana spent some time living and working in a Companion Care practice on the south coast, before the draw of her friends brought her back to Swindon.
"I didn't think it was something I'd ever do! I began working at Vets for Pets Swindon Bridgemead and fell in love with the practice, the team, and clients," said Ana.
Karen, who has been partner and head nurse at the practice since it opened eight years ago, is marking a huge milestone of 36 years in veterinary nursing in October. She said: "A lot has changed since I qualified. Practice ownership was certainly something she never even thought possible, but she was granted the opportunity when Swindon Bridgemead was due to open. She said: "I had worked with the partner and was offered the opportunity to buy shares of the practice, something I didn't ever think would be possible – RVNs didn't own clinics."
Ana and Karen discovered they had a mutual passion for client and colleague care. Ana said: "I love to build a bond with the clients. I know who they are and all about their pet. Our clients get a great sense of continuity with us – we are aiming to grow, and it is important we build that relationship."
Karen refers to herself as a "walking encyclopaedia" when it comes to their clients. She said: "We build a bond and huge level of trust. it's important to us that our team builds that bond, too." Both Ana and Karen said it was vital clients' expectations were set right from the start.
When it comes to their team, which they are currently expanding (visit our vacancies page to see what they have available at the practice), they strongly encourage and nurture an individual's skills, and as Karen said: "If they have a specific niche or talent, we will nurture that talent as well as encourage new skills."
Ana added: "We want our team to flourish, as not only does it leave them fulfilled, but it benefits the practice and clients, too." Both said they had seen new colleagues grow and quickly develop their confidence, and it was rewarding to see team members come into their own.
Ana and Karen's management styles complement one another, making the partnership successful. They say they "see eye to eye on the way things are run" and they want to make sure their team feels included in decision making, including "holding regular practice meetings where we can discuss cases, manage any issues, or develop systems and processes".
On practice ownership with Vets for Pets
Ana is extremely passionate about the networking opportunities within the business. She said: "Talking to other partners has been hugely helpful for me. We are all at different points in our journey and can help one another and learn to the benefit of our business, team and clients."
The pair appreciate the importance of the clinical freedom as practice owners with Vets for Pets. Karen said: "We run the practice to the highest standard we can manage. We aren't dictated by support office on how we run clinically, but know they are there to provide support and guidance when we need it."
Hear Ana and Karen talk more about their experiences and passion for their team and clients in this video:
Discover more
To discover more about practice ownership with Vets for Pets, contact the Partnership Team