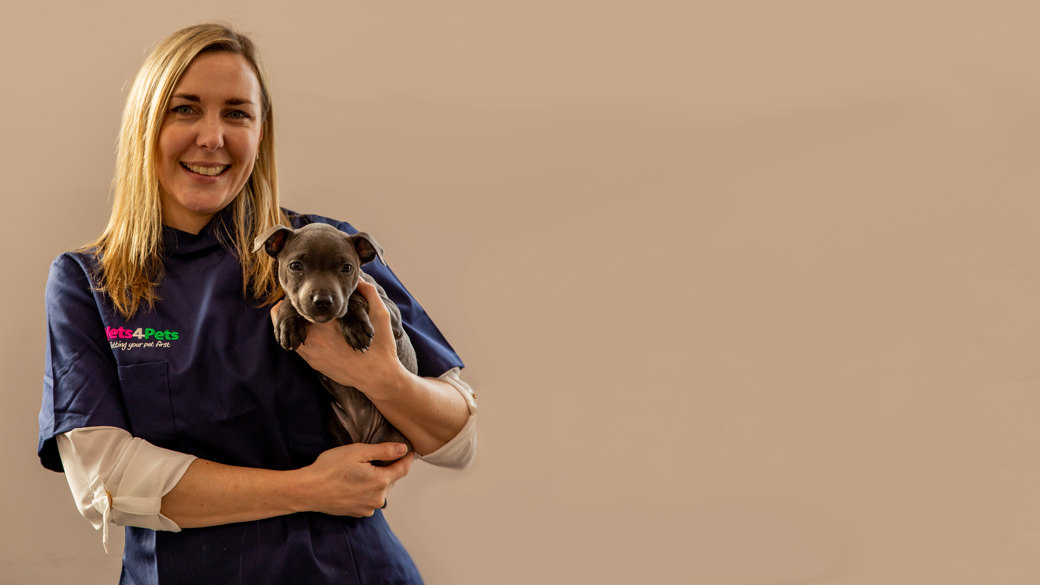 I've been non-stop with clients since opening
We are so pleased to welcome Joint Venture Partner (JVP), Kirsty Raistrick to our Vets4Pets family. On the 25th March, Vets4Pets Bracknell opened and we have caught up with Kirsty to find out why she decided to open a practice during the pandemic, why she chose Vets4Pets, and to find out how she and the team have got on during their first few months.
How have the past few months been?
I've worked long hours and dealt with some teething issues but I wouldn't change it for the world. I'm slowly growing my fantastic hard-working team, I've been non-stop with clients since opening and we've had some good support from the team at Vets4Pets.
After seeing many of the independent practices that I had worked hard for, being bought out by big corporates I decided that I could put all my hard work and energy into achieving my own goals rather than simply meeting weekly targets for someone else. I'd also realised that I had reached my potential as an employed vet and wanted to expand and develop my business and management skills, running a vets the way I want to run it.
After much research and time spent looking at what options were available to me on the market, with the help of my husband James, we found that the Vets4Pets model helped us to achieve our goal of owning our own practice without the huge upfront costs. The original dream was to open a completely independent practice, however we quickly realised that Vets4Pets gives the freedom of owning an independent practice with the support of a large group. We had support with our opening, with different specialist teams in place for all parts of the journey, from the set-up of the practice, to help with payroll and practice management systems, so we get the benefits of both worlds. And with a low personal investment it made sense.
Do you have true clinical freedom?
Yes. I'm told about the 'recommended' products that are on offer but there is no obligation to choose them. I've been able to get the products that I prefer working with, and also advantage of some of the discounts available.
Being part of Vets4Pets means that you have an entire network of vets that you can call on for advice or to discuss anything clinical. There's also a knowledgeable clinical team that you have at your fingertips, so if you're thinking of opening your own practice and worried about becoming the clinical lead, don't be. Help and support is at hand.
Why did you choose Bracknell?
Originally James and I wanted to open a standalone practice, however the right location wasn't available so we spent time looking at various alternative locations around the South and we came to the conclusion that Vets4Pets Bracknell ticked the majority of my boxes. I have found that being in store I have an instant captive audience, and we have some lovely store colleagues we work with. Looking into the future we are keen to explore additional locations.
What would you say to a vet looking to become a practice owner?
From the outside looking in, it can look as though all the Vets4Pets are the same and interconnected, but we're all independent and have our own personalities and individuality. You really are independent with all the group benefits.
You don't have to worry about the set-up of your practice alone, you will have guidance along the way and you can always visit a fellow JVP as part of your journey to understand how they have successfully run their business and established best practice.
We were also introduced to our Area Relationship Manager Natalie Osman before opening, and she has been there from day one helping me to get up and running and make sure that I have everything I need to provide the best care to my clients. She's always on hand for support if needed.
What does the future look like?
I haven't forgotten about my preferred location and when the right property can be sourced, we would like to open a second practice in that area. I think three is a realistic number of practices to aim for and I'm confident that we can make them a success thanks to the help/support from Vets4Pets. When the time comes, I would also like to explore OOH services so I can provide 24/7 care to my patients.
If you would like to learn more about how we can help you to achieve your goal of owning your own practice please contact Claire Cunningham at claire.cunningham@vets4pets.com or visit our website https://www.vets4petscareers.com/partnerships/