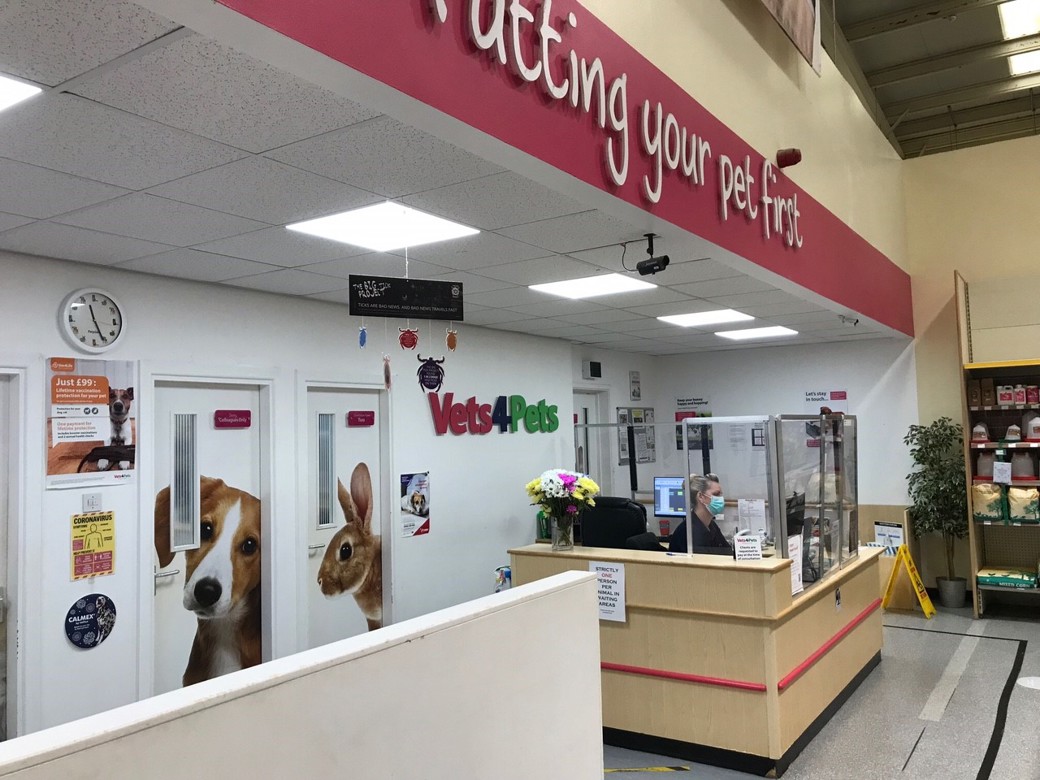 Vets4Pets Telford is looking for a new Partner
About the practice
Telford Vets4Pets has been operating since 2001, with the current Joint Venture Partner taking over the partnership in 2010. The practice has shown continued success, yes still offers plenty of growth potential due to a number of housing developments in the town and surrounding areas, as well as space to accommodate expansion of the practice.
Vets4Pets Telford benefits from being located on a large retail park (alongside a number of well-known lifestyle stores) and positioned close to the edge of a large residential area, with hundreds of properties. Being an instore practice, new partners can focus on building upon existing in-store relationships and work together with store colleagues to drive internal/external footfall and generate commercial opportunities.
The practice itself has an established caseload exceeding 5,000 clients and within the 1,075 sq. ft are 3 consult rooms (1 with x-ray), large open plan prep area, theatre and pharmacy space as well as separate cat, dog and isolation wards.
About the team
The practice team comprises of;
3 Vets
3 RVN's
Practice Manager
4 CCA's
1 SVN
1 VCA
Gilles first joined the Telford practice as a colleague in 2008, before becoming a Partner 2010. Prior to this he had worked for twenty five years in private practice in Paris. He qualified with a veterinary degree from the School of Veterinary Science of Alfort, in Maisons-Alfort, France, and then went on to achieve his doctorate from the medical faculty of Creteil in Creteil, France. His expertise and experience have been a welcome boom to the practice while at the same time spicing things up a bit with his French flair.
Gilles has taken the practice from strength to strength, building a work environment he is proud of as well as an excellent local reputation but is now looking to move back to his native, France! We are therefore looking for a new Partner who is interested in exploring the opportunities that Telford Vets4Pets has for both physical and business growth.
Telford
Situated in the beautiful county of Shropshire, this semi-rural location is considered a 'new town' with lots to offer both inside of Telford and in the wider area. The town is a chosen family location, with great schools on offer and a variety of family friendly activities to take part in. Keen travellers are within reach of regional airports (by car) in around 1 hour, making weekend breaks and family visits accessible for all.
What clients are saying
Here's a look at some of the reviews the practice receives, giving them their 4.5/5 on Facebook:
"Very attentive and caring when I had to have my 18 year old Labrador put to sleep, they didn't rush us and let us spend time to say goodbye. Would highly recommend their services, and thankyou"
"We just wanted to say what a great service we had today when we brought our cat for vaccination and check up. Met at the back door, vet was brilliant, listened, questioned and was very thorough. I've just rung reception to pay the bill after arriving home. Well done to you all for providing 'business as usual' with a smile in such strange time"
"We have been using this practice for many years, all of the vets and reception staff are amazing, nothing is to much trouble and they are always happy to offer advice. We never feel that the consultations are rushed and any concerns we have are always taken seriously and answered with honesty and in detail. you all do a fantastic job and thank you for the care you provided to the pets of Telford"
"I would just like to say a huge thank you, to this wonderful team. You did everything you could to help our dog today and acted with calmness, professionalism, dignity and respect throughout. Thank you to all at Vets4Pets Telford, we couldn't have left our boy in better hands"