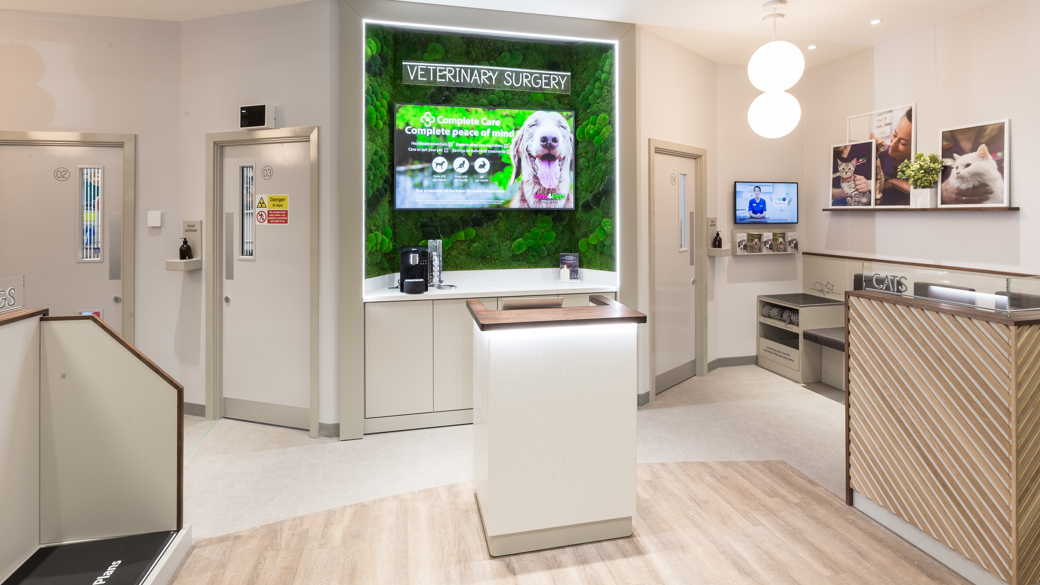 Clinical Director vacancies
Clinical Director vacancies in new, innovative and state of the art practices in East Grinstead and Horsham
The Opportunities
We're looking for ambitious clinicians with entrepreneurial spirit to take on the running of one of our brand new innovative practices, in either East Grinstead or Horsham. This is a great opportunity to lead, shape and inspire a new team right from the start!
We are seeking experienced small animal Veterinary Surgeons to join us on our journey to become the best pet care business in the world. This is an ideal career move for an experienced Vet to progress into a leadership role, with the opportunity to explore a stepping stone into potential partnership if you want to take your career in that direction.
You will have the opportunity to experience running a practice as if it were your own, making the choices and changes you want to make, but with the support and guidance of an established and successful group network.
Working alongside a new team you will champion excellence in both clinical and client care. You'll foster wellbeing and encompass a true team spirit, both within your surgery and with your wider store colleagues. The ideal candidate will have strong small animal experience, gained as a general practitioner, and great people skills. Specialisms and postgraduate qualifications (or a wish to gain them) are welcomed and supported but not necessary to the role, although the motivation and vision to develop your new surgery is essential.
This is a truly exciting opportunity to shape something special from the start and comes with an excellent base salary. Additionally, you will gain the comprehensive benefits package that you would expect from a major employer in our sector, but also with a few added extras!
We're keen to welcome vets looking to relocate, either within the UK or from overseas. We are happy to provide both relocation and sponsorship packages to make this an easy, trouble-free transition and will be with you every step of the way.
As you would expect from the market leader in small animal veterinary care, we offer:
Contributory Pension scheme
Paid memberships (RCVS,BVA and VDS)
Opportunity to work full or part time
Exclusive company discounts and rewards
Generous salary and package (including CPD)
If you share our passion for delivering outstanding pet healthcare, great customer service and would like to join our team we would love to hear from you.
Partnering with us
There is also the opportunity to own these practices by becoming a Joint Venture Partner.
Our model is the only one in the industry that gives you complete TRUE clinical freedom, you're independent to make your own business and practice based decisions, allowing you to run your practice, your way, keeping 100% of the profits, securing your financial future.
Partnering with our business experts across 12 key functions, we help develop your commercial and leadership skills and experience, setting you on the path for success. Our model includes a guaranteed salary from day 1 whilst having the security of being part of a wider group.
Tour our new look practice
The new operating model
At its core, Pathfinder is about utilising advances in technology, practice design and colleague structure to enhance the pet, client, and colleague experience to create the future of our practices.
Enabling operational efficiencies by allowing for more clients to be seen per consulting vet (whilst avoiding a 'conveyor belt' approach) and allowing time to write up notes, conduct clinical investigations, and ensuring a good work-life balance
Colleagues focusing on what they are qualified to do and enjoy the most.
Clients getting a gold-standard service.
Pets getting the treatment they deserve.
Efficiencies allowing more clients to be seen per vet.
A strong business performance as a result.
Why are we doing it?
We would like to address the vet retention and recruitment crisis by making our practices the best choice for vets. We want people to want to work with us and see no other way of working.
It provides a career opportunity for PHAs – Creating a career path within the practice
We want to reduce the 'Front and back' Mentality that some practices experience
Allow Clinical Colleagues to do more of what they enjoy
Better communication throughout the practice
Improved service, communication, and engagement with clients in meeting the needs of their pets