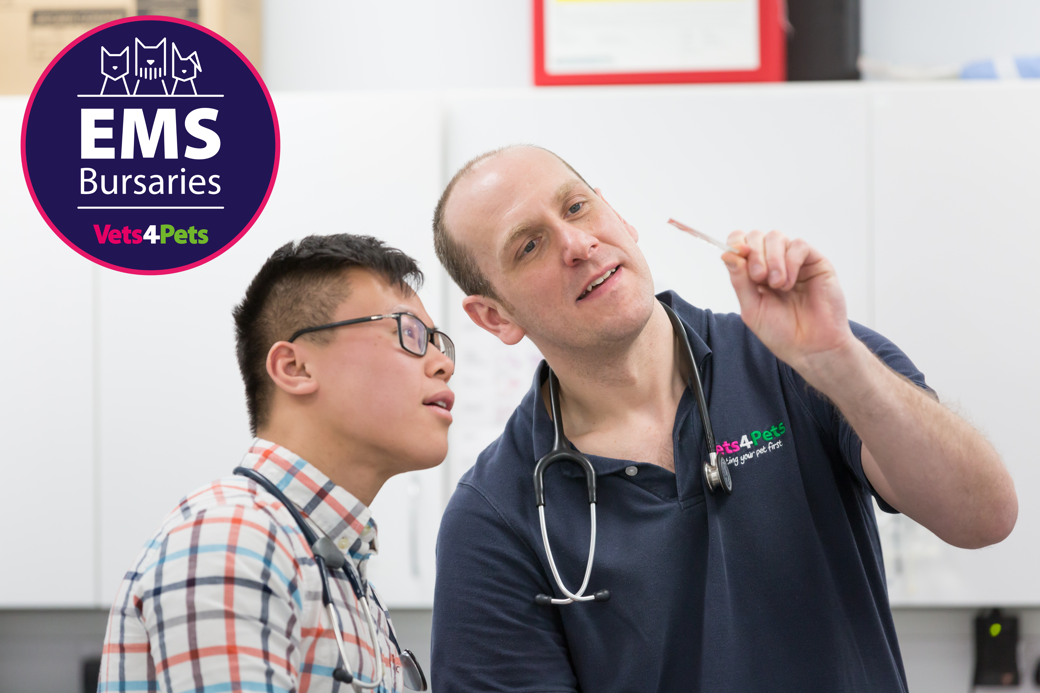 At Vets4Pets, we know that EMS provides a key part of a student's transition from the lecture theatre to becoming a practicing vet, as well as providing a safe and supportive environment to practice clinical skills and put academic learning to use in the real world. That's why so many of our practices are keen to work with EMS students and pass on their knowledge to the next generation.
We've listened to current vet students and our recent graduates and and we know that finding and funding EMS is an increasing challenge. That's why we launched the Vets4Pets EMS Bursaries, funding students to undertake clinical EMS in our practices.
Bursary recipients will be given £407 per week for a 2 week placement, gaining practical hands-on experience in one of our supportive practices. You don't need to have a placement arranged in order to apply - we can help you with this!
You will also have access to a Fast-Track application to our award-winning Vets4Pets Graduate Programme when you qualify!
Applications for our 2023 Bursary scheme will open on February 27th, closing at midnight on March 26th.
Eligibility
The bursary is open to all the UK and Ireland vet schools
Bursaries will only be awarded to students for their Clinical Years EMS placements
Placements must take place from 1st June 2023 - 30th June 2024
Placements must be at one of the specific Bursary Practices listed below
A maximum of one bursary will be allocated per student for a 2-week placement
A small number of bursaries are available to previous bursary recipients so applications are welcomed
All applicants must have the right to work in the UK
Our 2023 EMS Bursary Practices
The below practices are part of our 2023 Bursary scheme. Click to check out their websites.
Ayr, Airdrie, Accrington, Andover, Ashford, Aylesbury, Bearsden, Belfast, Blackpool Squires, Blackpool Warbreck, Bristol Emmersons Green, Bromsgrove, Bristol Kingswood, Burscough, Bury St Edmunds, CardiffEly, Carlisle, Castleford, Catterick, Charlton, Chelmsford, Chesterfield Ravenside, Cheltenham, Chesterfield, Chingford, Corstorphine, Cross Hands, Dover, Epsom, Folkestone, Glasgow Forge, Guernsey, Halesowen, Handforth, Harlow, Harrogate, Heanor, Hereford, Ilkeston, Irvine, Keighley, Kettering, Kilmarnock, Kingston Park, Lancaster, Leeds, Leeds Birstall, Leeds Colton, Letchworth, Lichfield, Lincoln South, Liverpool Old Swan, Llanelli, Loughborough, Maidstone, Mansfield, Milton Keynes, Newmarket, Newport, Newtownabbey, Northampton, Norwich Hall Road, Norwich Sprowston, Penrith, Plymouth, Prescot, Preston, Preston Capitol, Rawtenstall, Rochdale, Rugby, Rugby Central, Sheffield Birley Moor, Sheffield Millhouses, Solihull, South Shields, Southampton, St Helens, Stechford, Stockport, Stockton, Sutton Coldfield, Wakefield Westgate, Walton Vale, Warrington Riverside, Warrington, Weymouth, Winchester, Winnersh, Worthing, Worksop, York
If you have any questions regarding EMS Bursaries, you can contact us on emsbursaries@vets4pets.com
Applications:
Applications for this years EMS Bursaries are now closed
Vets4Pets Graduate Development Programme
If you've completed EMS at one of our practices and liked what you saw, take a look at our award-winning Graduate Programme for more information on how you could start your career with us.
EMS Opportunities
As well as our EMS Bursaries, we have hundreds of practices throughout the UK (including Northern Ireland) who continue to offer EMS placements. Many of our practices have certificate-holder colleagues and vets and vet nurses with specialist interests. So, whether you're looking to nail down the basics or develop an interest in anything from exotics to orthopaedics, we'll have opportunities for you! Use our Find a Practice map to get the contact details for practices right across the UK.