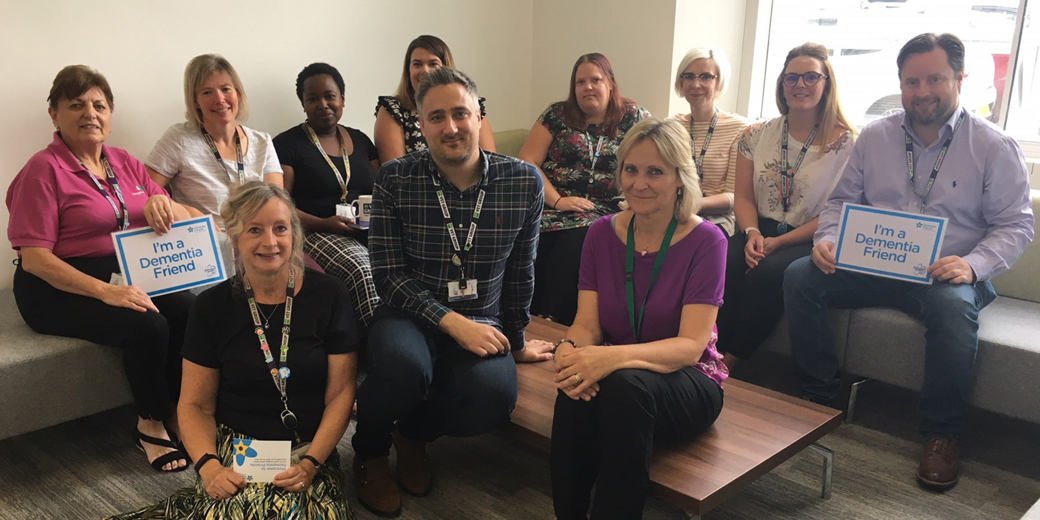 Blog: Vets4Pets Colleagues Become Dementia Friends
Alzheimer's Society research shows that 850,000 people in the UK have a form of dementia, more than half have Alzheimer's disease, and 21 million+ people know someone affected by the condition. Those are pretty staggering and sobering statistics.
In support of Dementia Awareness Month, Vets4Pets invited Elaine Graham, a Dementia Friends Champion, to host a number of informative dementia awareness sessions at its Swindon Support Office. Elaine is part of a team of trained volunteers who encourage people to learn more about dementia and to inspire people to help those living with dementia live well.
This session was part of Vets4Pets' Paws to Learn programme, which is focused on colleagues' personal and professional development in a way that relates to wellbeing.
"Wellbeing is at the heart of our business," says Jas Uppal, a Learning and Development Advisor with Vets4Pets. "It's at the forefront for us because we are fully aware of the wellbeing challenges presented within the veterinary profession. We don't just talk about wellbeing or use wellbeing as a buzzword. We bring wellbeing to life because we put it into action."
Matthew Keen, also a Learning and Development Advisor with Vets4Pets, leads the programme. His aim with Paws to Learn is to provide educational opportunities that will benefit everyone in their general life.
"We want to build awareness for and give people a better understanding of certain topics that matter to them," says Matt. These topics have included: mind matters, nutrition, dog behaviour, animal first aid, resilience, etc. Sessions run for full days, half days and as bite-sized one-hour blasts. Depending on the topic, expert presenters are sourced either internally or externally.
"We found that many of our colleagues have experienced dementia either within their family or close friends," says Matt. "In regards to dementia, people may not understand why people do things the way they do. With our dementia awareness session, we wanted to bring that to the forefront and give our colleagues a better understanding they can then apply to real-life situations."
For Matt, this rang true in regards to his grandfather who lived with dementia. "We didn't really understand why he did some of the things he did. He would turn up at his brother's house at 3am for a cup of tea. He had no concept of time. Thanks to the Dementia Friends session, I'm now more clued up. It all makes more sense to me now."
Matt's key takeaway from the Dementia Friends session is to let the person with dementia get on with it but do provide guidance. Don't correct them, as you'll confuse them even more, but instead, work with them. As Elaine Graham mentioned during the session, if a client comes into a vet practice with a dog but says it's a horse, go with it. Don't have an argument as to whether it's a dog or a horse. Just refer to it by its name, not its species.
For Jas, her key takeaway was that one person every three minutes develops dementia. "I really wanted to learn more about dementia because it's personal to me," says Jas. "It's a very heavy subject, but the session was nicely done. It was a great way to quickly learn in just one hour. When I was at home that evening, I went online to learn more."
Jas and Matt agree that Vets4Pets takes a really proactive approach to supporting colleagues' wellbeing with Jas describing the Paws to Learn programme as a "luxury" to have in the workplace.
We don't just talk about wellbeing or use wellbeing as a buzzword. We bring wellbeing to life because we put it into action.
Launched in 2012, Alzheimer's Society's Dementia Friends programme is an initiative to change people's perceptions of dementia. It aims to make everyday life better for people with dementia by changing the way people think, talk and act about the condition. To date, more than 2.5 million people in the UK have attended an awareness session and have become a Dementia Friend. You can find out more by visiting www.dementiafriends.org.uk/