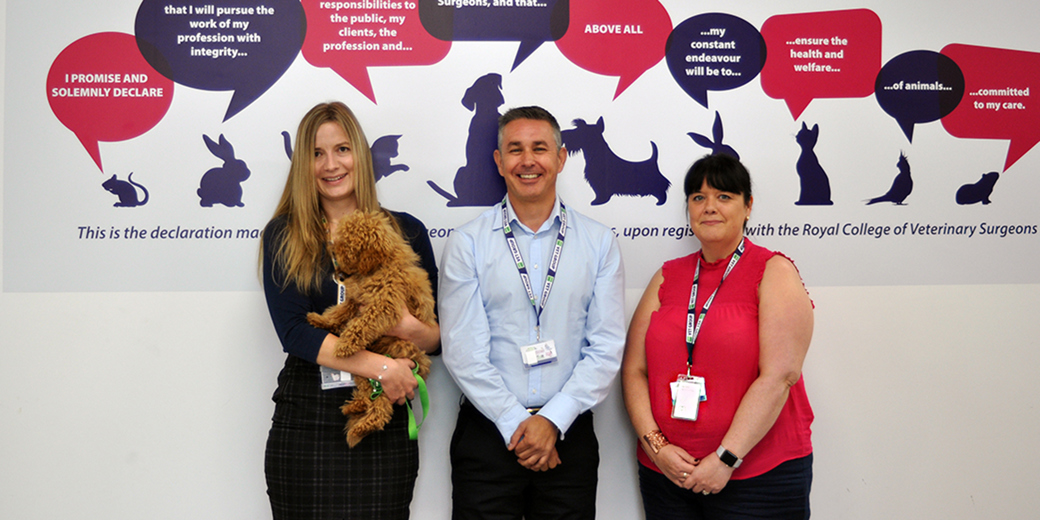 Starting Your First Day with a WOW
Hayley and Jas talk about our new group-wide, Support Office, new-starter WOW programme.
"Believe it or not, I didn't have an induction when I joined Vets4Pets," says Hayley Clare, learning and development advisor at Vets4Pets. "Yes, of course my manager absolutely helped me when I started, but at that time, the company didn't have a formal induction programme like it has today."
Two months after joining Vets4Pets, Haley developed and delivered the company's first, structured Support Office colleague induction programme, incorporating all of things she could think of that a new starter would like to know and experience during his or her first few weeks with the company. She had one key aim in mind: to make everyone feel valued and supported from day one.
Recently, Hayley worked her Learning and Development Advisor colleague Jas Uppal and Peter Bamford at Pets at Home to create a new, group-wide Support Office induction programme that all new starters go through regardless of which company they join (Vets4Pets or Pets at Home), their position or seniority within the group. This includes colleagues hired at the executive level and those hired on a temporary or fixed-term contract. Everyone who joins the group for more than 12 weeks goes through the same induction programme.
WOW – Welcome to our World – is a four-day, group-wide, Support Office induction programme that speaks to the whole group: Pets at Home, Vets4Pets and Companion Care, Groom Room, Support Offices and Distribution Centres
"Starting a new job is a hard adjustment and can be very nerve racking so our aim is to make everyone feel informed, relaxed and welcome," says Jas. "We now start all of our new colleagues on the same journey from day one, and they all start on the same day once per month and go through the exact same induction programme."
Hayley believes that people like to start as a group as this helps them to meet other new starters and people outside of their team so they can start to build contacts across the group from day one, which is incredibly important in helping them to feel they belong
WOW – Welcome to our World – is a four-day, group-wide, Support Office induction programme that speaks to the whole group: Pets at Home, Vets4Pets and Companion Care, Groom Rooms, Support Offices and Distribution Centres. Besides covering all of the usual things, such as IT and payroll, the programme covers the group's history, culture, values and behaviours. In addition, colleagues from various departments bring these topics to life through real-life work examples and highlight other programmes and activities important to the business, such as wellbeing, charity and corporate social responsibility.
"We're such a big group, and our new colleagues need to be aware of those colleagues they won't typically see every day such as store colleagues, vet practice colleagues, Groom Room colleagues and those who work at Pets at Home's Support Office," says Jas. "We're one big team. We're not just retail, and we're not just vet practices. We're more than what you might at first think."
A highlight of the WOW programme is spending one day working in a Pets at Home store and another day working in a Vets4Pets practice. Since Support Office based colleagues essentially support store and vet practice colleagues, this gives them the opportunity to walk in the shoes of those they support.
"Everyone at our Support Offices provides a support function so it's important to understand that context from those receiving our support," says Hayley. "At the Vets4Pets Support Office, we support our vet practice colleagues, and therefore, we need to understand what it's like to work in a vet practice, how it feels, what the environment is like, the highs and lows, etc. There is no better way to do this than by actually working in a practice alongside the practice team."
Lisa Kenna recently joined the Vets4pets People team as a people assistant. In her previous role, she created a new colleague induction programme but says the WOW programme is the best one she's seen to date.
"It was a really good welcome to the organisation," says Lisa. "It really helped to calm your nerves, made you feel welcome and put you on the right path to understanding the organisation and how you fit into it."
This sentiment was echoed by Hannah Marsh who recently started with Vets4Pets as a health plan advisor. "I thoroughly enjoyed it and felt it was a brilliant way to start with a new company," says Hannah.
As the saying goes, first impressions matter greatly and Jas and Hayley take this to heart.
"On your first day, it's so incredibly important to be met by a team that is approachable, welcoming and personable, and we think our new WOW programme shows our new colleagues that we're committed to helping them succeed in their new roles and with us," says Hayley.