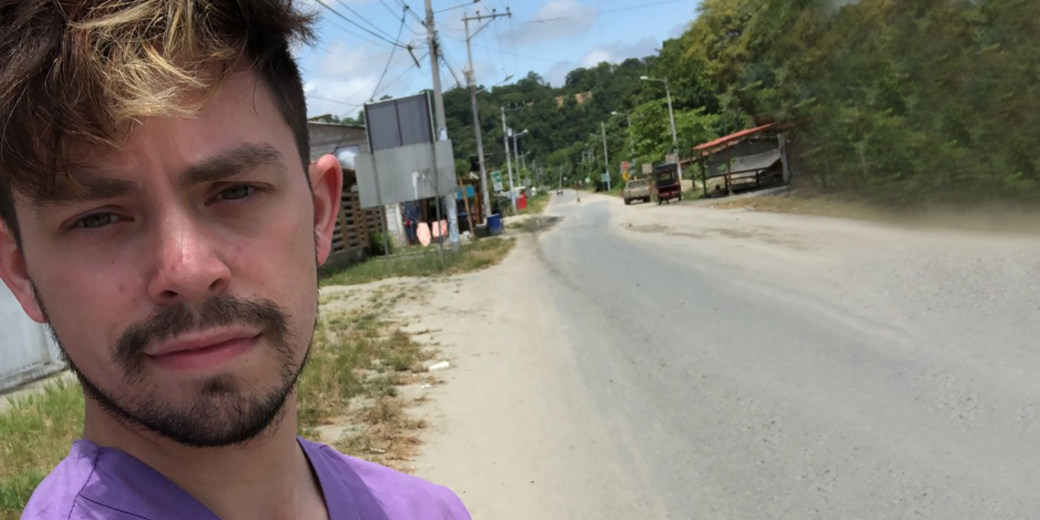 Volunteering with a Spay and Neuter Clinic in Ecuador Changed My Life
Simon, Head Nurse at Vets4Pets Preston Capitol, talks about his experience volunteering with Go Pawesome in Ecuador.
I started working for Vets4Pets Preston Capitol in 2013 as a Customer Care Advisor (CCA). At that time, I was planning to complete a Master's Degree in Photography. I had never had a job working with animals – I had never done anything like this – I didn't even expect to get the job.
I no longer think photography is my true calling. I've never had a job before where I truly enjoyed coming to work…until I started here. Testament to this, I am always early for work.
The Joint Venture Partners (JVPs) at my practice are really, really supportive. I told them how much I enjoyed my role and how I wanted to get even more involved in this lovely world of veterinary medicine. I always wanted to know more, to play a bigger role in our patients' journeys, and to make a difference. When I was a CCA, I did make a difference on the client side, but I also wanted to make a difference on the patient side. I wanted to know everything at the front end of the practice and everything out back as well.
So, I became qualified as a Veterinary Care Assistant and then took the plunge and became a qualified Veterinary Nurse. I'm now Head Nurse at my practice. I worked full time while completing my nursing training so I had one day per week at college and then one day to study and to have a life, sort of speak. It's been challenging and a lot of hard work, but it's also been amazing. Men are a minority in the vet nurse profession, so I think I can contribute to the profession as a whole and bring something new to it.
Because I am the type of person who wants to make a difference, I decided to apply to do volunteer work with Go Pawesome, specifically helping in a spay/neuter clinic in Ecuador. I was a bit apprehensive at first. I had never done anything like that. At the time, I couldn't have imagined doing something like that. A part of me hoped that even though I applied, it wouldn't happen. I had never even travelled on my own.
I tell people that the experience changed my life, and it did. That is the truth. It changed my whole point of view.
There were 9 of us (6 nurses and 3 surgeons) volunteering, and our clinic was outside next to a church. Although we had a little bit of protection above us, we really were not protected from bugs, wind, sand or any of the elements. We ran our clinic for six days and spayed/neutered at least 200 animals, mostly dogs, but we also saw some cats. Some of the cats were very small and young, weighing just half a kilo or so. We saw all kinds of dog breeds and unusual breeds, which was surprising.
It was a really fantastic and very busy experience. Here in the UK, it's the norm for you to be with just one patient at a time. There, I was monitoring three. We would have three patients waking up at the same time, 15 patients recovering, people shouting…it was crazy.
We also had to work with a finite supply of resources so we had to be creative. Here, our clinics are so clean, so pristine, but there, we were standing on top of loose bricks with the wind bringing in anything and everything. We used a lot of surgical spirit, got very creative with bin bags, and all patients received an antibiotic injection, which was necessary due to the surgical environment. We did have lots of clippers though, and when these broke, we had to get creative and use a pair of haemostats and a blade. I'd now make for a really good barber. I was amazed with what people managed to do with so little. One of our clients made a fancy buster collar from cardboard. It was crazy but also amazing!
Our clinic was the only one within two-to-three hours. We were in a remote village with one road in and one road out. The locals were amazed by what we were doing. There were crowds watching us every day, old and young people filming us and taking pictures. For them, it was a very special thing…and for us, it was too. They would queue up from 8am, and they all had questions about their pets. We gave a lot of advice.
That experience really helped me to further develop my skills. As Head Nurse, my role is now more focused on developing students, administration, and people issues so I feel that my clinical skills have taken a slight step back. There, I was placing catheter after catheter and had the chance to learn from other people from other countries and to see how they did things. I went knowing I wanted to develop my catheter and anaesthesia skills. It was great to receive some very complimentary feedback from the vets I worked with.
I was exposed to a completely different way of life and life perspective. I now much more appreciate what we have here in the UK. We really do take for granted all the technology, resources, and just people, colleagues we have here. We have luxuries here in the UK that others don't. I now never use the word stress. I instead use the word challenged. I know I have a lot of support here. I have a lot of options and choices. I am lucky. I now approach things differently. I'm much calmer. We saw and met people who have fewer options and fewer choices, but they just got on with things.
The experience definitely changed me. I would definitely do it again. It's so worthwhile to be out of your comfort zone and to learn. I went thinking this would be the first and last time I would do something like this, but before my time there ended, I arranged to do another project. I tell people that the experience changed my life, and it did. That is the truth. It changed my whole point of view.