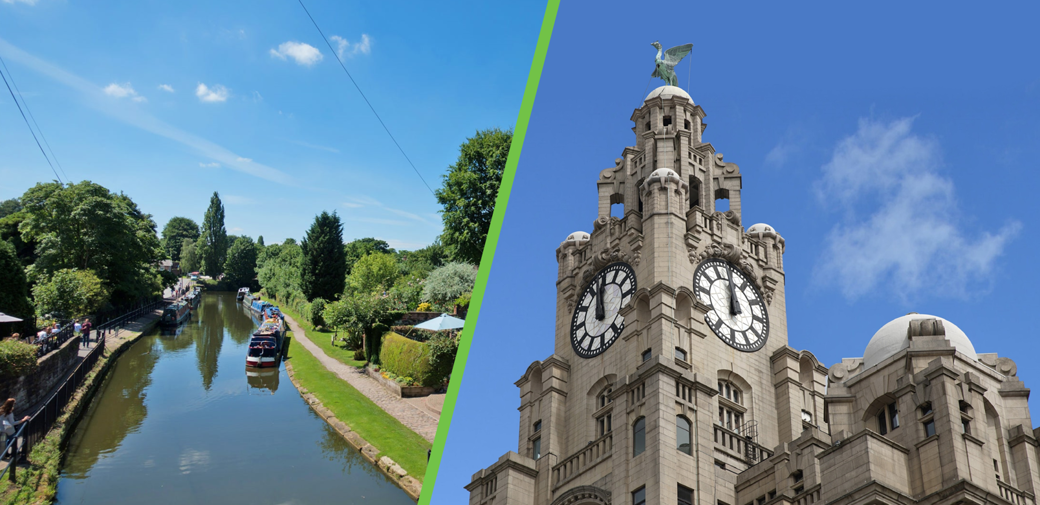 Practice ownership opportunities across Cheshire and Merseyside
Find out more about our available locations in Cheshire and Merseyside
Opened in 2017, Vets4Pets Bromborough is based on a mezzanine inside a busy Pets At Home store:
Great positioning and visibility on The Croft Retail & Leisure Park from the A41
Free parking
15 minutes south of Birkenhead
Situated across the road from Spital train station, so has excellent transport links
Over 2,700 active clients
2 experienced vets (orthopaedics and small animal surgery certificate holders)
1 Practice Manager/Head nurse, and one additional RVN
3 Client Care Assistants
Spacious practice offering 3 consult rooms, Otoscope and dental X-ray
The practice offers a large prep area, a good sized theatre, an equipped pharmacy and separate cat and dog kennels
Read more about Vets4Pets Bromborough
Our flagship practice, opened in May 2021, Handforth is a fantastic, modern, fully equipped practice.
This practice is based inside a busy Pets at Home Store with great positioning and visibility on the retail park. It is a spacious and contemporary practice that is running with our new operating model. It includes a laboratory, pharmacy, digital x-ray and separate Cat and Dog waiting areas.
Found on the North West coast and within reasonable travelling distance of the beautiful Lake District and Cheshire, the metropolitan city of Liverpool has lots to offer. The city is located on the banks of the River Mersey where you can enjoy a stroll around the historical Royal Albert Docks, visit the many art galleries located across the city, or go to Liverpool ONE for the shopping or the night life. Keen travellers looking to experience different cultures can take a ferry across the Mersey to Dublin, fly to many European destinations from the local John Lennon airport, or travel to an exotic location from the easily accessible Manchester airport which is 35 miles away.
Vets4Pets Liverpool Old Swan is an established practice located in the middle of a large residential area, sharing parking facilities with neighbouring store, Aldi. The practice opened its doors nine years ago and has built a loyal client base in that time. Open seven days a week, the practice benefits from four consult rooms, a theatre, prep area and a new air conditioning system. All of the usual equipment is available along with a multi-parameter, a mid-range ultrasound and an electrocautery.
Engaged and experienced, there is a large team in situ at Liverpool Old Swan comprising 4 Vets (including 1 Lead Vet), 7 RVNs, a Practice Manager, a Client Services Manager and 6 Client Care Advisors. This is a great opportunity for an experienced, committed and enthusiastic vet to partner the practice and lead an already focussed and driven team onto bigger success.
As a Joint Venture Partner, your practice will have the unique advantage of National TV advertising and Vets4Pets will work in partnership with you to build your practice, providing expertise in HR, legal, accountancy, banking, marketing and supplier relationships.
If you'd like to have a chat about Liverpool Old Swan and find out more about the JVP opportunity, please get in touch with Tom Legrand at tom.legrand@vets4pets.com or 07719 056 045.
Northwich lies in the heart of the Cheshire Plain, at the confluence of the rivers Weaver and Dane. The town is about 18 miles east of Chester, 19 miles south of Manchester and 12 miles south of Manchester Airport. In 2014 Northwich was named as one of the best places to live in the United Kingdom by The Sunday Times.
Opened in 2018, Vets4Pets Northwich is situated on a mezzanine inside a successful Pets At Home store. The store is based on a retail park which has free parking, and neighbouring businesses include a B&M and Lidl.
The practice is laid out with three consult rooms, a separate theatre, a large prep area along with separate cat and dog areas and isolation. It has over 1,800 active clients which is constantly growing.
Read more about Vets4Pets Northwich
Vets4Pets in Prenton opened in 2009 but has recently moved location, its new premises have recently been refurbished and are in great condition with a modern look. It is a well-equipped practice, including a lab, pharmacy, digital x-ray, ultrasound and separate cat and dog wards.
This is a standalone practice on a main road, nearby a Sainsburys. There is a bus stop directly outside the practice and it is about a 20 minute walk to the train station offering great transport links.
The practice is well performing and has a good reputation in the local community. The current JVP has worked hard alongside his team to get the business into a strong, profitable position but there is still an opportunity to further grow the business with new Vets to take on new clients.
We have a great practice ownership opportunity at Vets4Pets Prescot. Located within the Pets at Home store on a busy retail park, the practice benefits from ample free parking and footfall from the other stores and is clearly signposted from the front of the store. The train station is a 5 minute walk away, with good motorway connections to Liverpool, Manchester and Warrington.
The practice has recently undergone refurbishment to our Pathfinder model, so looks brand new; it has three good sized consult rooms, a theatre, prep area, and separate cats and dogs waiting and isolation areas. The practice is committed to providing affordable, high quality care via a modern, well equipped practice, including a lab, pharmacy, digital x-ray and ultrasound.
You will be joining a practice with a friendly team of 2 Vets, 3 RVNs, 4 Client Care Advisors, and 1 Student Veterinary Nurse, who have built up great relationships with the store colleagues each helping to drive clientele through the respective areas. The practice is active with their clients on Facebook and has a Google rating of 4.7/5. There is real potential for growth and development with Vets4Pets Prescot.
Being a partner with us allows you an affordable route to ownership, along with being able to run your practice, your way with us providing expertise and support in 12 different business functions such as HR, Legal, finance, banking, marketing, supplier relations and clinical support should you need it.
Vets4Pets Runcorn is looking for a new joint venture partner to join the practice and assume all leadership and director responsibilities. This is an opportunity to buy into a relatively young practice (opened in 2018) with an established and engaged caseload in existence and will suit an experienced, confident and ambitious vet. There is scope to buy the practice in its entirety or co-partner with a JVP in situ and we're happy to explore personal preferences.
On offer at Vets4Pets Runcorn is:
A young spacious, stand-alone practice in immaculate condition.
An existing caseload 1,200 bonded clients (dogs, cats, exotics and small furries)
A 1,800 sq. ft. purpose built practice, housing 3 consult rooms (1 housing x-ray). In addition, a sizable prep area, operating theatre, pharmacy and lab area along with separate cat and dog wards along with a separate office and kitchen/colleague room. A large storage area is available, which can also be converted into a 4th consult room. At the front of the practice there is a large reception area with lots of natural daylight.
Equipment includes in dental unit (inc. accessories for small furries), house lab kit, digital x-ray, IDEXX and Catalyst blood machines and an ultrasound with colour Doppler (sonoscape proS9).
A practice with high client feedback scores
An active social media profile and online client engagement.
A united team of hard working individuals, all committed to providing high standards of clinical care for their patients.
Positioned on the edge of a large residential area, four miles from the centre of town.
Located just off the M56 giving access to Manchester and North Wales, and the Merseyflow Bridge gives easy access to Liverpool.
Plenty of free, onsite parking.
Charity links with greyhound rescue and Cats Protection.
Partnering with Vets4Pets means you, the partner:
Reap the rewards of your own success, benefiting from 100% of the profit of your practice.
Lead your practice, in your own way
As the clinical expert will make 100% of the clinical decisions. From the stock that sits on your pharmacy shelves to producing your own protocols.
Have access to a large family of veterinary professionals, for guidance, advice and understanding.
Benefit financially from large scale group buying power.
Read more about Vets4Pets Runcorn
Vets4Pets Wallasey-Bidston Moss is currently a practice managed by the group and we are looking for a partner or a clinical director (with a desire to develop into partnership) to take over the leadership and direction of the practice.

The practice is located inside Pets at Home on the Junction One Retail Park in Bidston Moss, Cheshire. It is a highly prominent location just off the M53, which links to Liverpool Wallasey Tunnel and the affluent West Wirral. The practice sits alongside a DIY store, supermarket, furniture store and PureGym to name a few so has great visibility and it provides an opportunity to benefit from footfall and a platform to maximise commercial opportunities by building strong relationships with the store team.

You will be joining a friendly team who are ready to be taken along with the new partners journey to grow and develop the practice. It is a modern well equipped practice, which features a lab, pharmacy, digital x-ray and ultrasound, and offers free on-site parking for convenience.
Read more about Vets4Pets Wallasey (Bidston Moss)
Cheshire & Merseyside
Cheshire sits on the Welsh borders between Lancashire and Staffordshire. The moors of the peak district edge into the east of the county, followed by the Cheshire plains, criss-crossed with canals built during the industrial revolution. It is famous for its many white plaster and black timber-frame houses, and is also home to some of Britain's grandest houses such as Arley Hall, Dunham Massey Hall and Tatton Park.
Merseyside is situated on both banks of the lower reaches of the river Mersey estuary and is centred on the city of Liverpool, European Capital of Culture 2008. Liverpool boasts fantastic restaurants, bars, museums, galleries, parks, beaches and more, as well as having a rich sporting heritage.
Cheshire and Merseyside have excellent national and international transport links with several motorways, Liverpool John Lennon Airport, and the West coast train mainline.
What our clients say about us
"Very friendly approach of the vet we saw & her genuine interest & manner towards my pet which is "one of the most important things to me" on visiting a vet, so I left with him feeling very happy with the service we had received during our visit" - Vets4pets Bromborough
"Really happy with the service here from ALL the staff. Professional caring staff from the first phone call to the first clinic visit." - Vets4pets Liverpool Old Swan
"Home from home! Incredible care from our welcome from Reception, to the Nurses care and attention, our lovely Vet and their patience to the resourcefulness and flexibility of the accommodating Practice Manager! " - Vets4pets Northwich
"Fantastic!! Really great got me in quick when I was worried about my cat and have good disabled access. They were really helpful and genuinely nice people. Have now transferred permanently to this vets surgery" - Vets4pets Handforth
What our practices look like
Can't find your perfect location?
Get in contact today to discuss how we can make it happen
Partnering with Vets4Pets
Joint Venture Partnership is the only model in the industry that gives you complete TRUE clinical freedom. You're independent to make your own clinical and practice-based decisions, allowing you to run your practice, your way and enables you to have the freedom to make the best decisions for your patients.
Partnering with us enables an affordable route to ownership, making the dream of owning your own practice more achievable than ever.
We have 12 dedicated departments that support you in all aspects of business, setting you on the path for success. Our model includes a guaranteed salary from day 1 whilst having the security of being part of a wider group.
Get in touch
To find out more about practice ownership at Vets4Pets throughout Cheshire and Merseyside, or more around how our model works, contact Bronwen Ballinger on 07719072463.