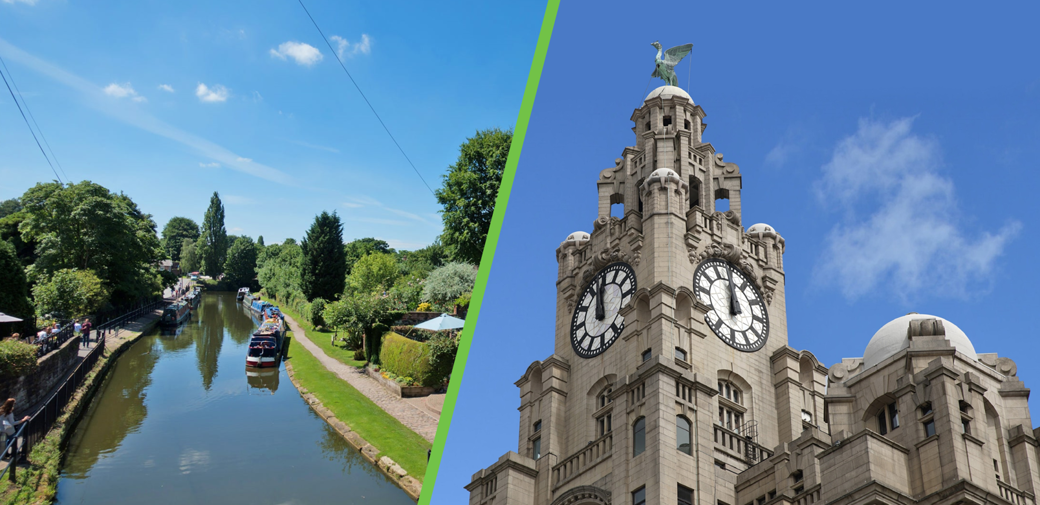 Practice ownership opportunities across Cheshire and Merseyside
Find out more about our available locations in Cheshire and Merseyside
Cheshire & Merseyside
Cheshire sits on the Welsh borders between Lancashire and Staffordshire. The moors of the peak district edge into the east of the county, followed by the Cheshire plains, criss-crossed with canals built during the industrial revolution. It is famous for its many white plaster and black timber-frame houses, and is also home to some of Britain's grandest houses such as Arley Hall, Dunham Massey Hall and Tatton Park.
Merseyside is situated on both banks of the lower reaches of the river Mersey estuary and is centred on the city of Liverpool, European Capital of Culture 2008. Liverpool boasts fantastic restaurants, bars, museums, galleries, parks, beaches and more, as well as having a rich sporting heritage.
Cheshire and Merseyside have excellent national and international transport links with several motorways, Liverpool John Lennon Airport, and the West coast train mainline.
What our clients say about us
"Very friendly approach of the vet we saw & her genuine interest & manner towards my pet which is "one of the most important things to me" on visiting a vet, so I left with him feeling very happy with the service we had received during our visit" - Vets for Pets Bromborough
"Really happy with the service here from ALL the staff. Professional caring staff from the first phone call to the first clinic visit." - Vets for pets Liverpool Old Swan
"Home from home! Incredible care from our welcome from Reception, to the Nurses care and attention, our lovely Vet and their patience to the resourcefulness and flexibility of the accommodating Practice Manager! " - Vets for pets Northwich
"Great Vets! Got an appointment, no problem. The Vet was very friendly, and he put me at ease as he could see I was upset over our pet dog. He explained everything slowly, and he was 100% correct when he said he would be back to his normal self after 7 days!" - Vets for Pets Prenton
What our practices look like
Can't find your perfect location?
Get in contact today to discuss how we can make it happen
Partnering with Vets4Pets
Joint Venture Partnership is the only model in the industry that gives you complete TRUE clinical freedom. You're independent to make your own clinical and practice-based decisions, allowing you to run your practice, your way and enables you to have the freedom to make the best decisions for your patients.
Partnering with us enables an affordable route to ownership, making the dream of owning your own practice more achievable than ever.
We have 12 dedicated departments that support you in all aspects of business, setting you on the path for success. Our model includes a guaranteed salary from day 1 whilst having the security of being part of a wider group.
Get in touch
To find out more about practice ownership at Vets4Pets throughout Cheshire and Merseyside, or more around how our model works, contact Bronwen Ballinger on 07719072463.