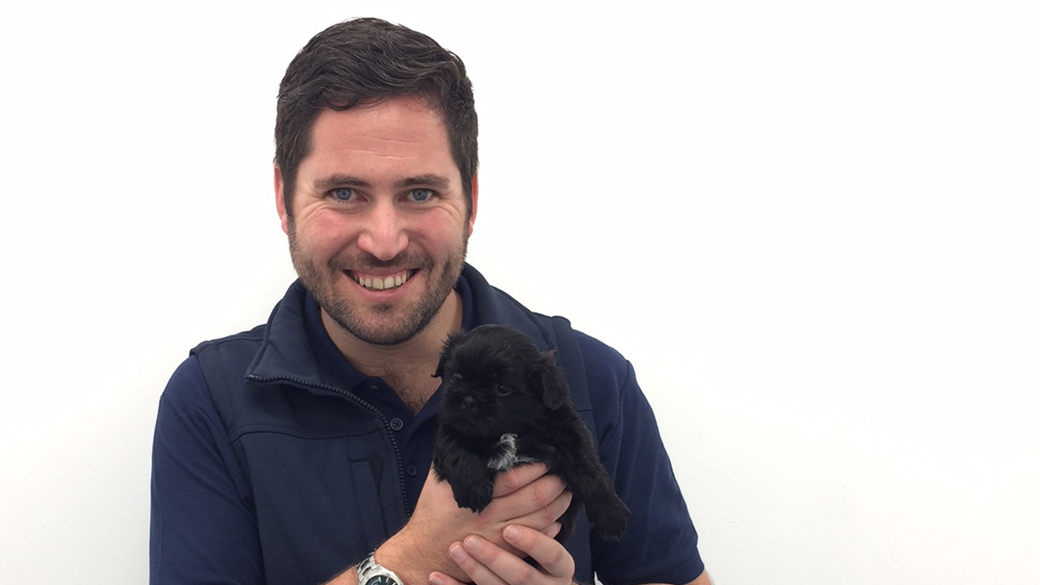 There is never a dull day in a vet practice
One amusing moment during the day was when I answered a phone call at the reception desk to realise it was a member of our recruitment team in Swindon on the other end of the line. Natalie reacted by saying, "Graeme? What are you doing there?!", before I explained I was doing a PMP day. I managed to find out the information Natalie needed and also sorted a couple of other queries that some of the team had while also explaining a bit more about the teams we have at Support Office in Swindon and what my role is all about. Hopefully, the in practice team got something out of my visit too, which is the other key advantage of the programme.
As with most days in veterinary practice, there were some highs and lows, including a very cute puppy being brought in for his first vaccinations to being in the room during some of the vet consults when clients had to be told some sad news about their pet's health. I was also privileged to watch a recently graduated vet in theatre carrying out her 13th cat spay (it wasn't an unlucky one) under the supervision of an experienced vet. It all went really well, and it reminded me that what the practice teams see as "routine" or "every day," is actually amazing and incredibly impressive to witness as a "lay person".
This is why the PMP programme is so important. Even though I already knew how amazing the work is that is done every day in our practices across the country, it's rare to be able to stop and fully appreciate it and the skill of the people doing it.
My second PMP day was in October 2017 at Vets4Pets Imperial Bristol, which is situated within a Pets At Home store at the Imperial Retail Park. Again, it was a great experience and another opportunity to see a team working really well together and to also see how well they work alongside the Pets at Home store team. My highlight of this day was seeing the team perform a chemotherapy treatment on a cat, something I had never seen before and may never get the chance to see again. The safety precautions and general care of the cat by the team was amazing to watch, and again, it just showed me that there is never a dull day in a vet practice.
For 2018, I have already completed my first PMP day, which was in August 2018 in an in-store practice in Poole Holes Bay. This is a very well established practice and one I had visited a number of times in my earlier years with the business; however, this was my first return since the practice had been purchased by the new Joint Venture Partner Dan Makin and re-branded from a Companion Care practice to a shiny and very new-looking Vets4Pets practice. Yet again, I had a fantastic day in the practice and managed to spend time chatting with all of the team, watching what they did and learning lots. I saw loads of procedures, stood in the consulting room corner during afternoon/evening appointments and spent time with the practice manager as she prepared for an upcoming RCVS Practice Standards re-assessment due in a few weeks' time. It was a busy day, and the time flew by.
I'm already looking forward to my second PMP day for 2018. This will take place in November, and I'll be visiting one of our practices in Liverpool.