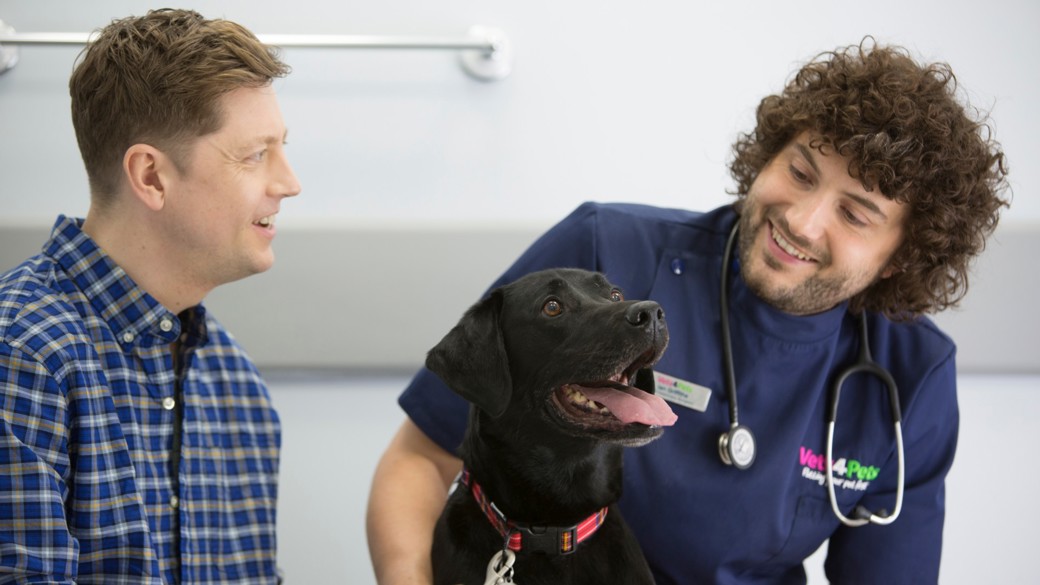 Your journey to Joint Venture Partnership
Whether you're a vet, RVN or Practice Manager, becoming a JVP with Vets4Pets allows you the freedom and independence to run your own veterinary practice.
Whether you're a vet, RVN or Practice Manager, becoming a Joint Venture Partner (JVP) with Vets4Pets allows you the freedom and independence to run your own veterinary practice. With this comes the advantages of being part of a large family of industry professionals with the benefit of our support to help your business thrive and grow. But what will your journey to becoming a partner with us look like?
Your Discovery Day
After you've had an informal chat with one of our experienced partnership team colleagues where you'll get a better understanding of how our business model works, the financial investment involved and the type of business opportunity and locations available (unless you have a specific location in mind), we will arrange for you to attend a Discovery Day.
Held either at our support office in Swindon or virtually, the aim of your Discovery Day is for you to meet with several key colleagues to allow you to better understand how we would support you as a partner. The Discovery Day is also your opportunity to ask as many questions as you need and to engage with our colleagues to ensure you are fully informed of the process and the support offered to JVPs.
Practice visit
Following your Discovery Day, we strongly advise you to spend some time visiting our practices to get a real feel for how we do things. During these visits, you'll have the chance to speak with colleagues and existing JVPs about what life at Vets4Pets means for them and how they operate their businesses.
Do you want a new or existing practice?
You may have a specific location in mind you'd like to find out more about, but if you haven't, our team will work with you to find a suitable location.

We have both new and existing practices available, with each offering its own benefits.
Opening a new practice with us means you can start a business from the very beginning, recruit your own team and establish your place within your local community. You will be able to build your practice to complement your skill set and if you have any specialist skills or want specific equipment, we will help you build this into your business plan.
You can also open your new practice using our new operating model, Pathfinder, which utilises advances in technology, practice design and team structure to enhance the pet, client, and colleague experience. Pathfinder is a way of working that reduces pressure on clinicians and allows them to focus on the most rewarding aspects of their job through the transference of appropriate tasks to front of house colleagues.
If you choose to buy an existing practice, you will be buying a business that already has a varied and established client base and the practice team will already be in place. The practice will already be established in the community, giving you the base to build on and develop your local client base further. The practice may also be in the position of growth, meaning the opportunity to extend and/or further strengthen the business and opportunities you can offer colleagues and clients. If that's the case, we'll talk these opportunities through with you.
The Commercials
Once the location is set, our teams of experts in our finance and partnership team will work with you to create your business plan for your chosen practice.
This 10-year forecast will set out the business' potential performance and will include sales, costs, borrowing and payroll amongst other key factors. It will illustrate revenue with LFL (like for like) growth.
It's a demonstration of how you should expect your business to perform as a minimum. We work with you to tailor the business plan to your and the needs of the practice. It's taken through several approvals, and you will be part of that process and informed of progress at every step.
The Decision and Signing Day
You've made the decision you want to finalise your journey to becoming a practice owner and partner with us. Vets4Pets will help make it happen. We will begin the sales process!
We work alongside internal teams and external banks to secure your funding and provide legal and sales documents. We'll support you with everything from recruiting your team (if required) through to a detailed marketing plan, ensuring your launch into the community is successful.
The final, and most rewarding stage of your journey will be your signing day. Joining us at Support Office, you'll meet with key colleagues and contacts along with our directors. It is at this point that you will sign your sales documents and it's time to celebrate your new beginnings!
Your journey starts with you
Whilst the shape of the journey might differ for everyone the fundamentals of becoming a Joint Venture Partner with Vets4Pets are the same. You receive unlimited support from our teams of experts, and you get the independence to run your practice, your way.
If you want to find out more about the practice ownership opportunities available, contact us now partnership@vets4pets.com or visit Partnerships